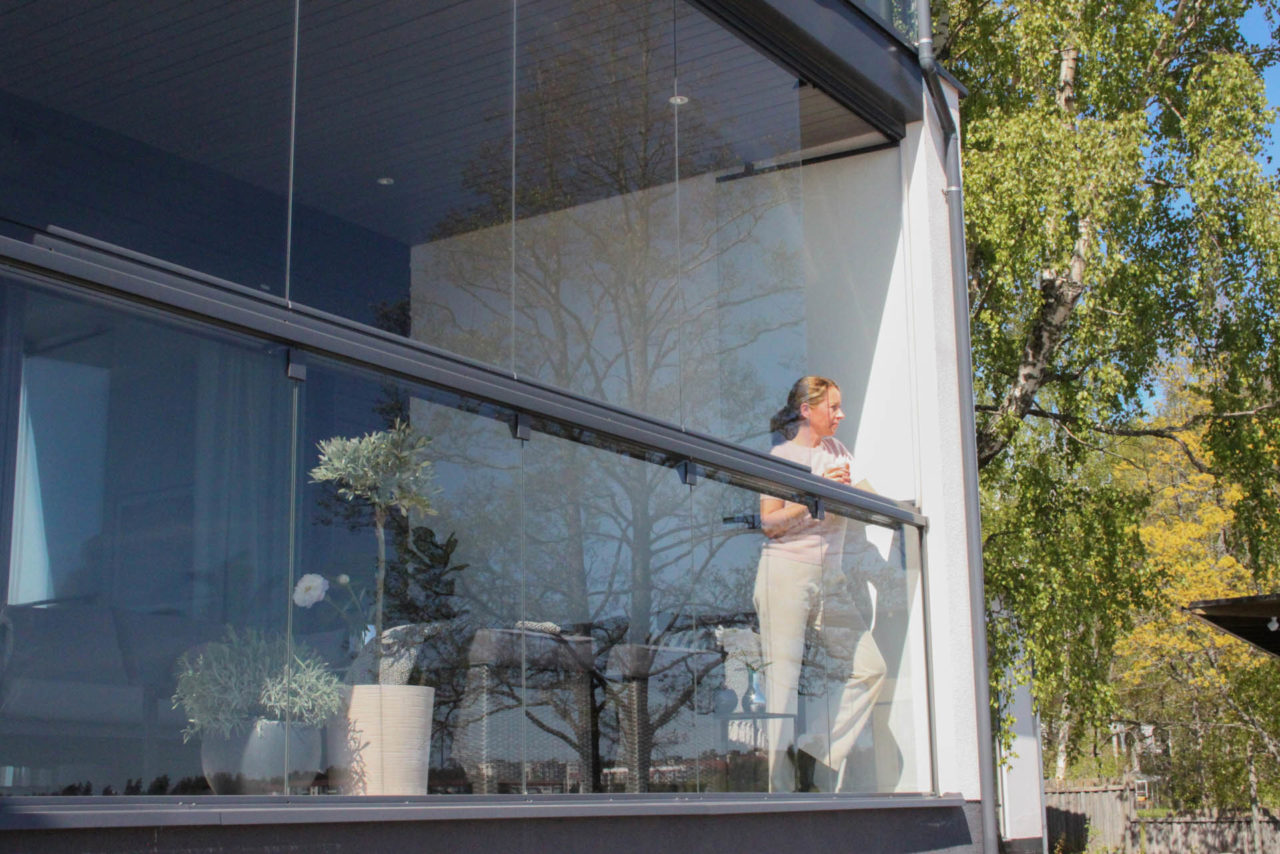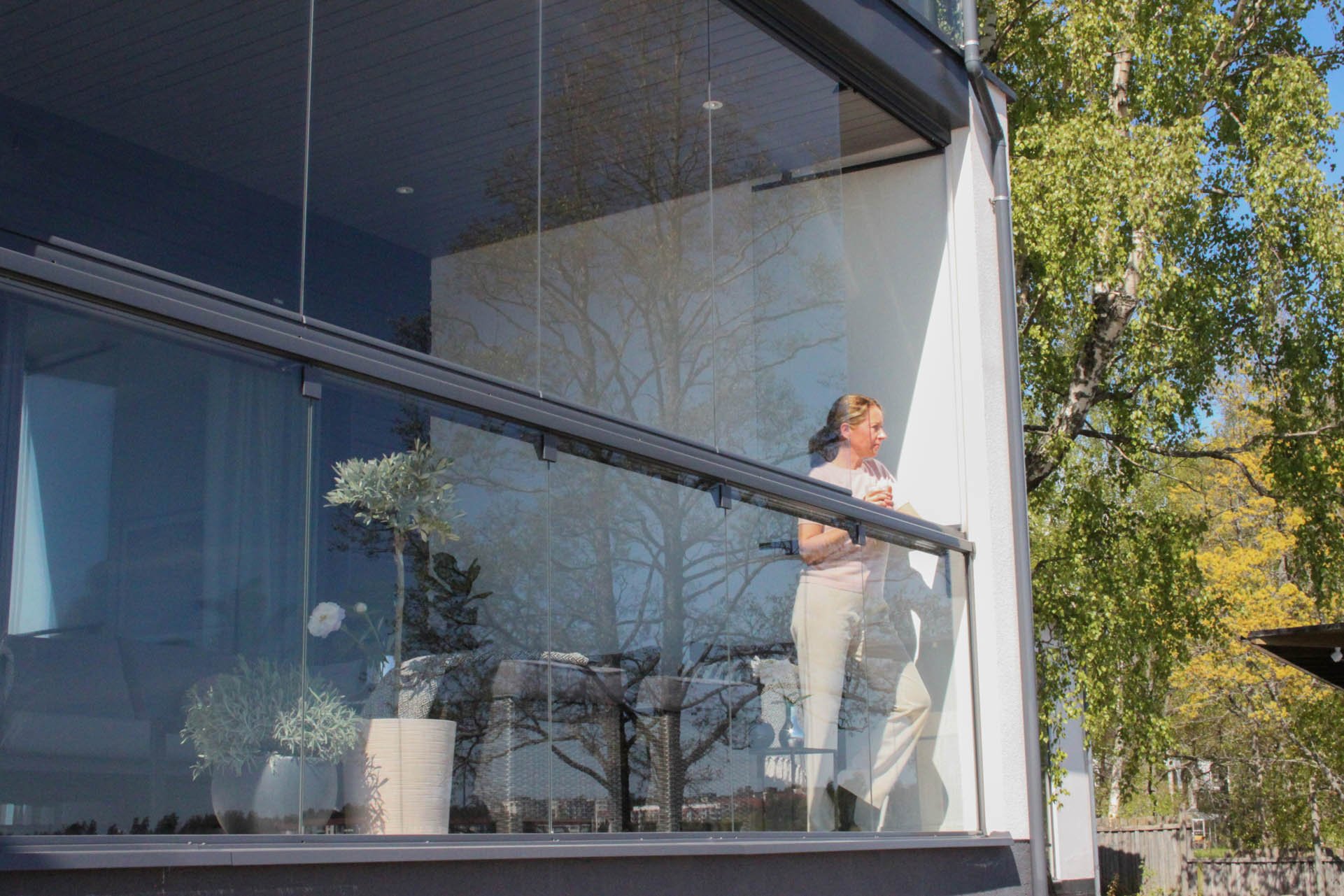 Lumon Railing
Lumon Railing allows you to create your own combination for a unique facade
Lumon's balcony railings in aluminum and glass are the result of wishes and visions from many European architects and designers that we interviewed and worked with. Their requests have been clear: glass surfaces and panels with less visible vertical profiles, fastening elements and screws. The vision is to create minimalist, seamless and stylish facades.

Lumon Railing can be customized to suit your project, no matter the needs. Balcony railing often contributes significantly to the building's architectural expression. For a seamless glass balcony facade, Lumon glass railings can be combined with Lumon balcony glazing. Because Lumon Glazing and glass railings are frameless, they give the facade a stylish and elegant look. Within the Lumon product family, you can combine profiles, horizontal posts and glass panels of different colors to create a unique and ground-breaking balcony facade.
When our glazing and railings are assembled together, you get a stylish and seamless balcony facade. The balcony glazing can be installed directly or prepared for a later installation.
Lumon Railing is durable and easy to maintain
Lumon Railing consists of aluminum and glass, which makes it durable and easy to maintain. The materials are also 100% recyclable and require no special maintenance. Our balcony railings are a finished industrial product and are always delivered with strength calculations and technical information. Instead of the traditional balustrade with posts, Lumon glass railings are attached to the ends of your balcony or patio And, of course, our aluminum railings meet general building regulations and standards.
When choosing balcony railings, you need to take a few things into account:
Balcony railings must comply with current safety regulations and the authorities' requirements.
They should blend in nicely with the rest of the facade.
They must be durable and robust and have a long service life.
That's why we at Lumon have developed a railing system that meets all requirements while being able to adapt and be tailored to each unique project. We also offer more classic picket railings so that you can combine and match our products according to your needs.
Simple, structured and always on schedule. Our expectations were completely fulfilled. If we were planning balcony glazing for another project, we would do it again with Lumon at any time.

Lars Schlieker, Project Manager, Die Wohnkompanie
Balcony railings in glass and aluminum
Horizontal attachment
In a horizontally supported handrail, the handrail is attached at its ends to the frame and with a slight attachment to the bottom plate. If necessary, the structure can be reinforced with support posts, depending on the overall span and wind load on the building. The number of support posts is affected by loads due to the environmental conditions as well as the fastening method. A fully post-less railing can be obtained with a maximum length of 5 m with a 225 mm handrail and 3.6 m with a 160 mm handrail. (Note: the lengths are approximate and may vary from case to case).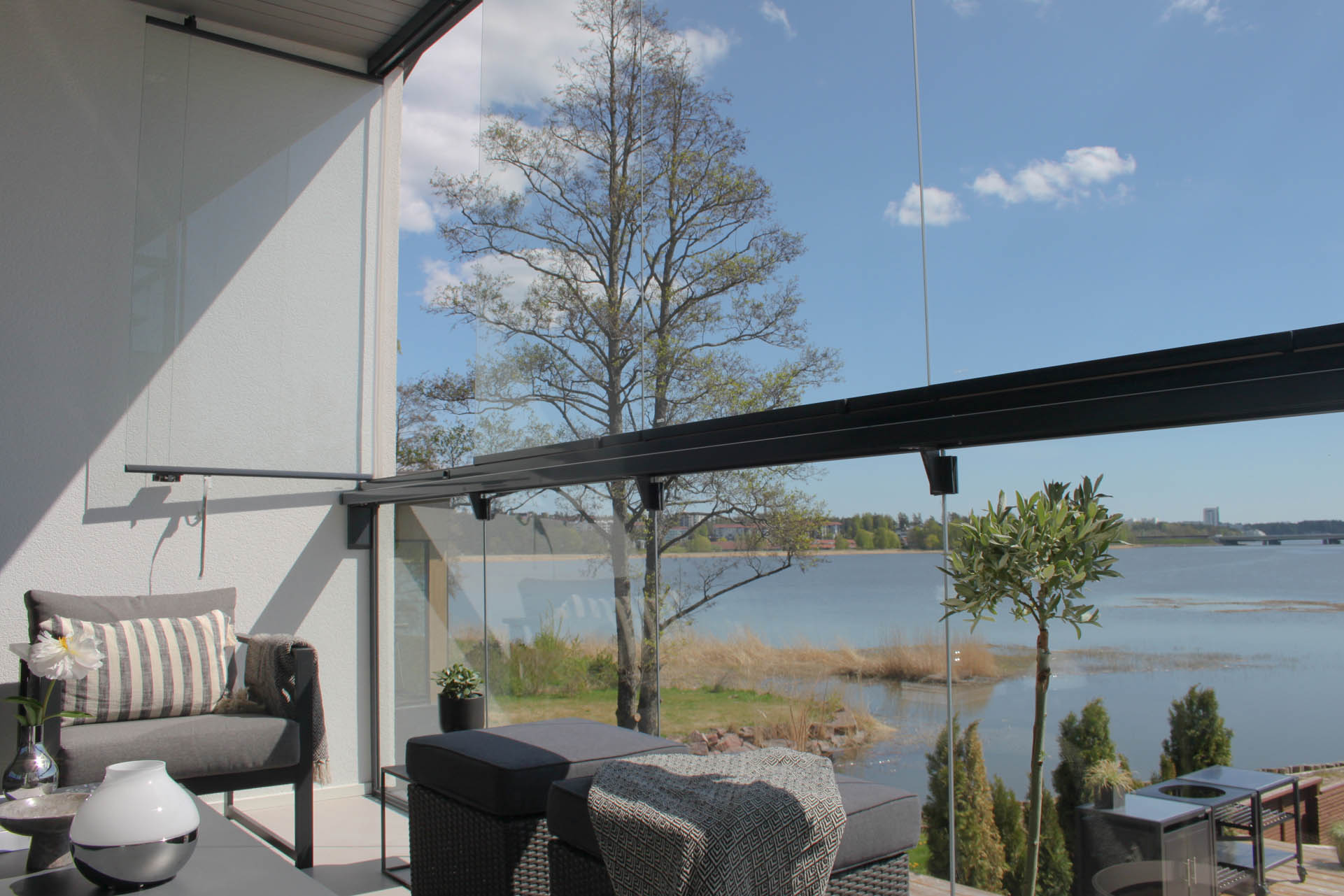 Vertical attachment
In a vertical railing, the railing is mounted either on top of or on the side of the slab. The strength of the structure is based on support posts, and the number of support posts depends on the load that the environmental conditions entail, as well as on the fastening method. In the event that horizontal attachment is not suitable, we use a vertical attachment.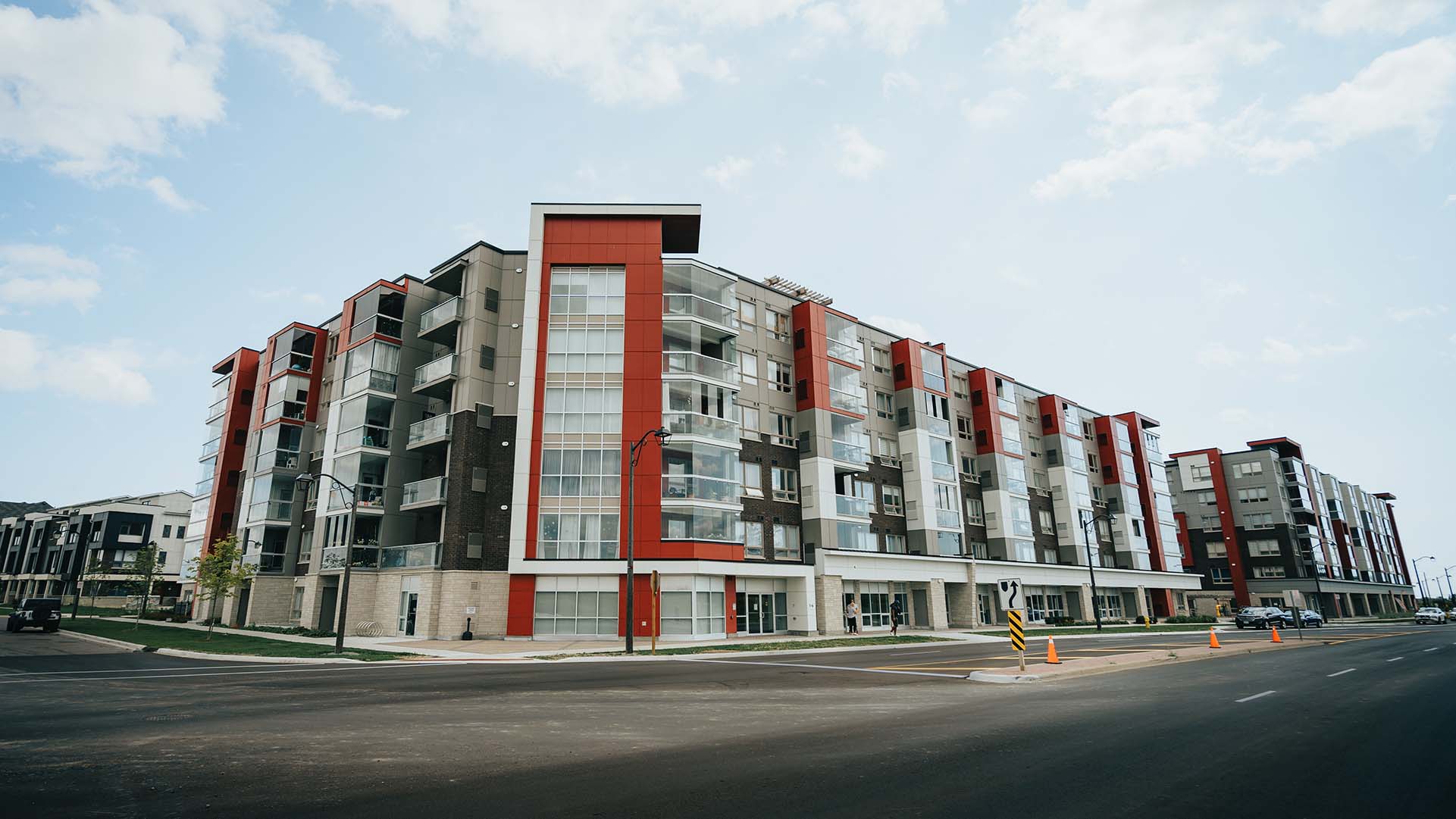 Let the railings create your perfect facade
Variety can be achieved through decorative pipes on the outside of the balcony as well as the brackets of the railing. Combine standard profiles, horizontal beams, panels and color options to your liking and taste. Variation can also be achieved through colored glass or by patterning glass through, for example, screen printing, digiprint or sandblasting.
Substantial care has gone into the design and installation methodology to improve logistics on construction sites. The end plugs and joints of the railings sit neatly and tightly on balcony constructions without additional plating and other applications on site.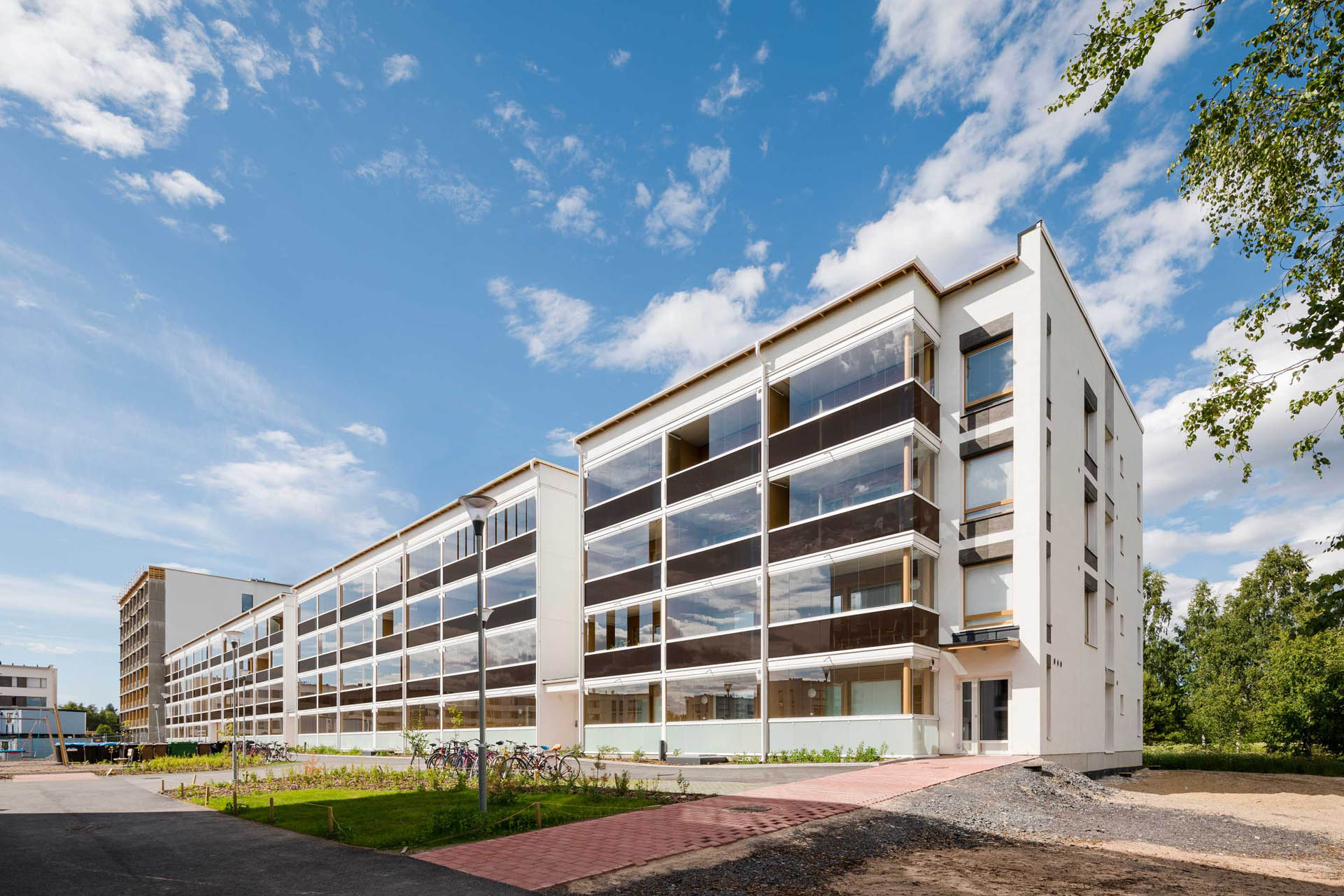 Lumon picket railing in aluminum
Lumon's aluminum picket fence consists of stylish and compatible aluminum profiles. The structure comprises of the railing itself and a handrail that is mounted on top. Our handrails are designed to be easy to mount on the building. Support posts make the railing stable and increase its load capacity. The number of support posts needed depends on, for example:
loading
environmental conditions
attachment method
Our railings are fully compatible with our glazing, which can be mounted from floor to ceiling. When our railings are supplemented with balcony glazing, the building's facade is protected, which gives the facade a longer lifespan.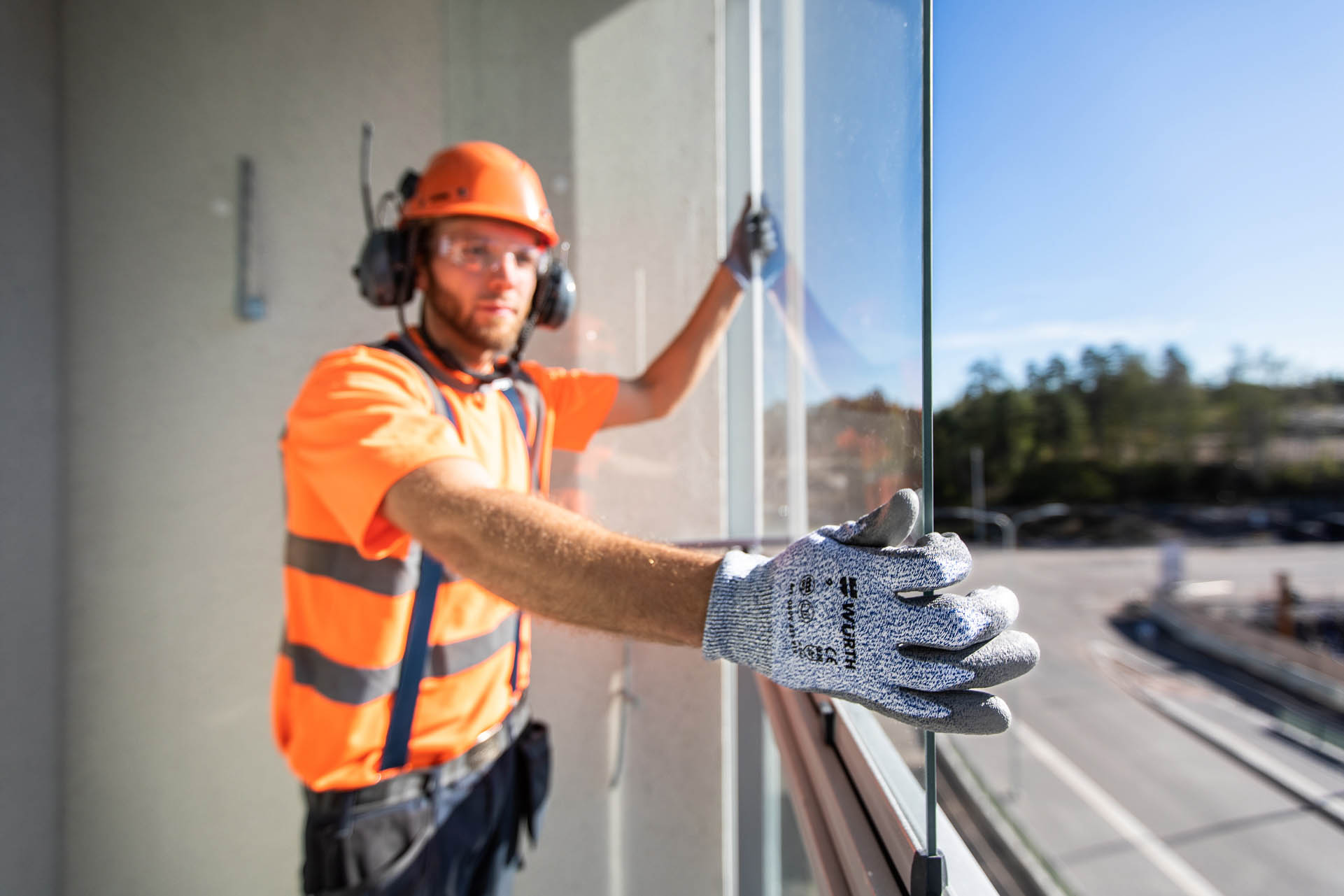 Safety is our priority
Lumon's product solutions undergo laboratory testing and meet all testing requirements set for railing structures. They are always dimensioned specifically for each project by our knowledgeable and experienced design department. This ensures that our product structures meet the strength and safety requirements set for each individual project.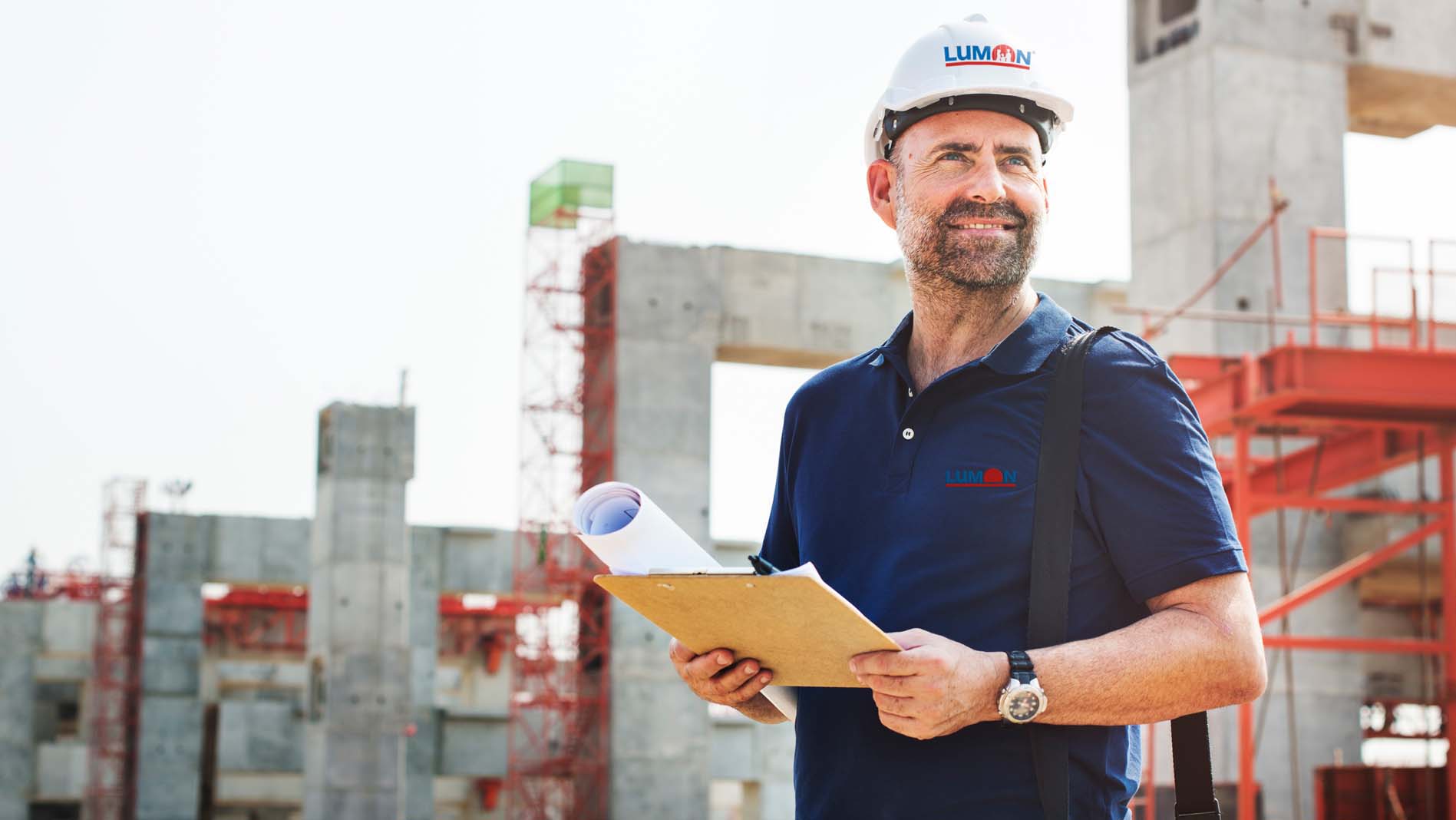 Each balcony is treated as a separate project, from manufacturing to the site
The production and construction of fastening devices in aluminum is always included in Lumon's balcony railing. Each balcony is treated as its own project and site-specific requirements such as wind load and various mooring and leakage solutions are taken into account before production. If necessary, structural calculations are also prepared in accordance with the authorities' requirements. The finished railing is then assembled from finished parts on site by our own fitters.
The manufacture of our balcony railings takes place in our modern production facilities in Finland. The profiles are packed at the factory and transported directly to the construction site. Lumon's balcony railing system is a safe and complete solution that takes into account local conditions and official regulations.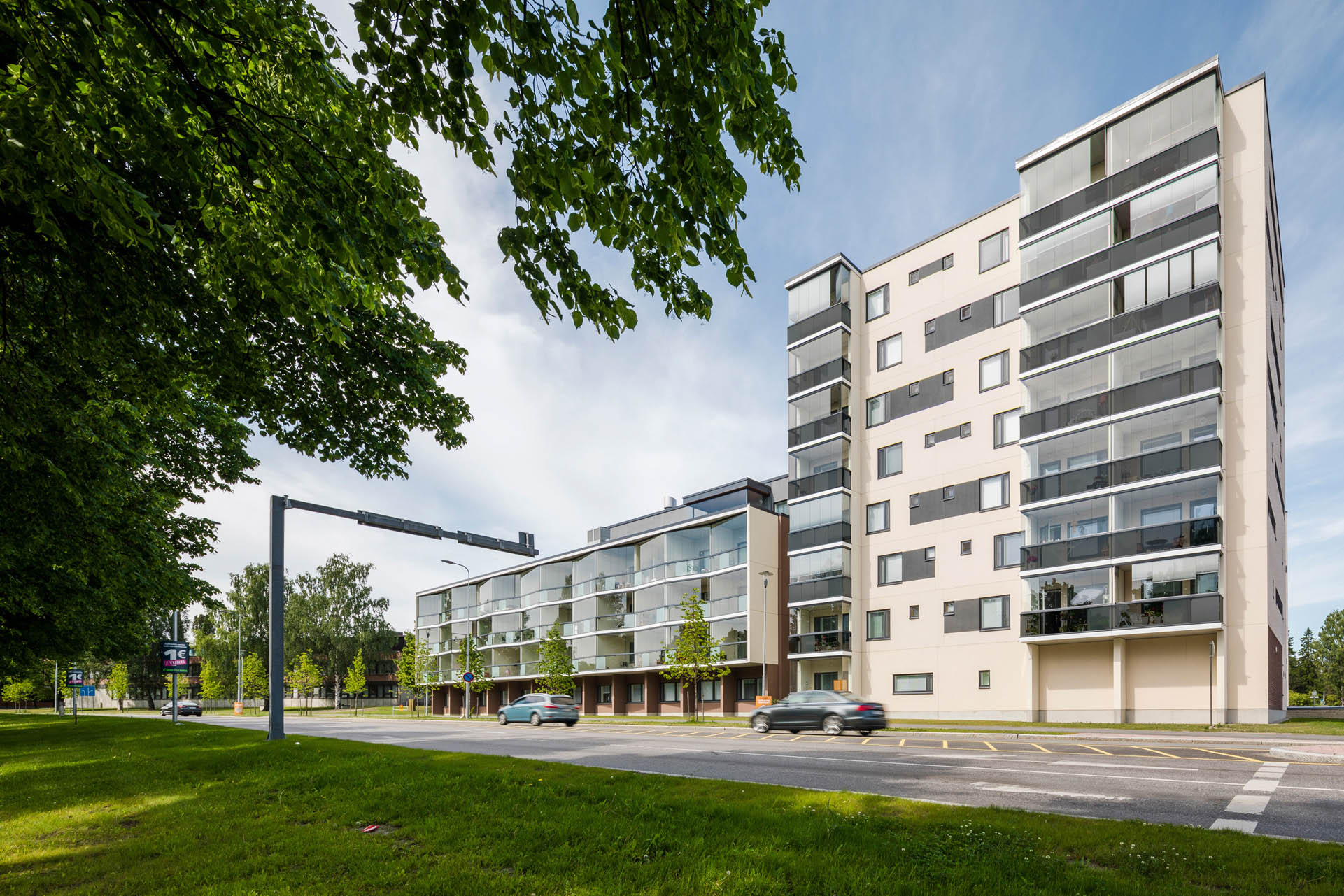 Optimized balcony railings for your project
We have optimized our balcony railings so that assembly is as smooth as possible, regardless of how many balconies are involved.
Smooth logistics: All products are packaged per balcony, which means they can be lifted onto the respective balcony directly.
Efficient installation process: Lumon's railing system can be installed by a single fitter from inside the balcony, which minimizes lifting costs and reduces extra site traffic.
Perfect integration: Lumon's railing system fits perfectly with Lumon's system for balcony glazing. Together, they create an elegant and seamless balcony facade. The balcony can then be completed with our pleated curtains that can be integrated into glazing and railings and provide uniformity when mounted on all balconies.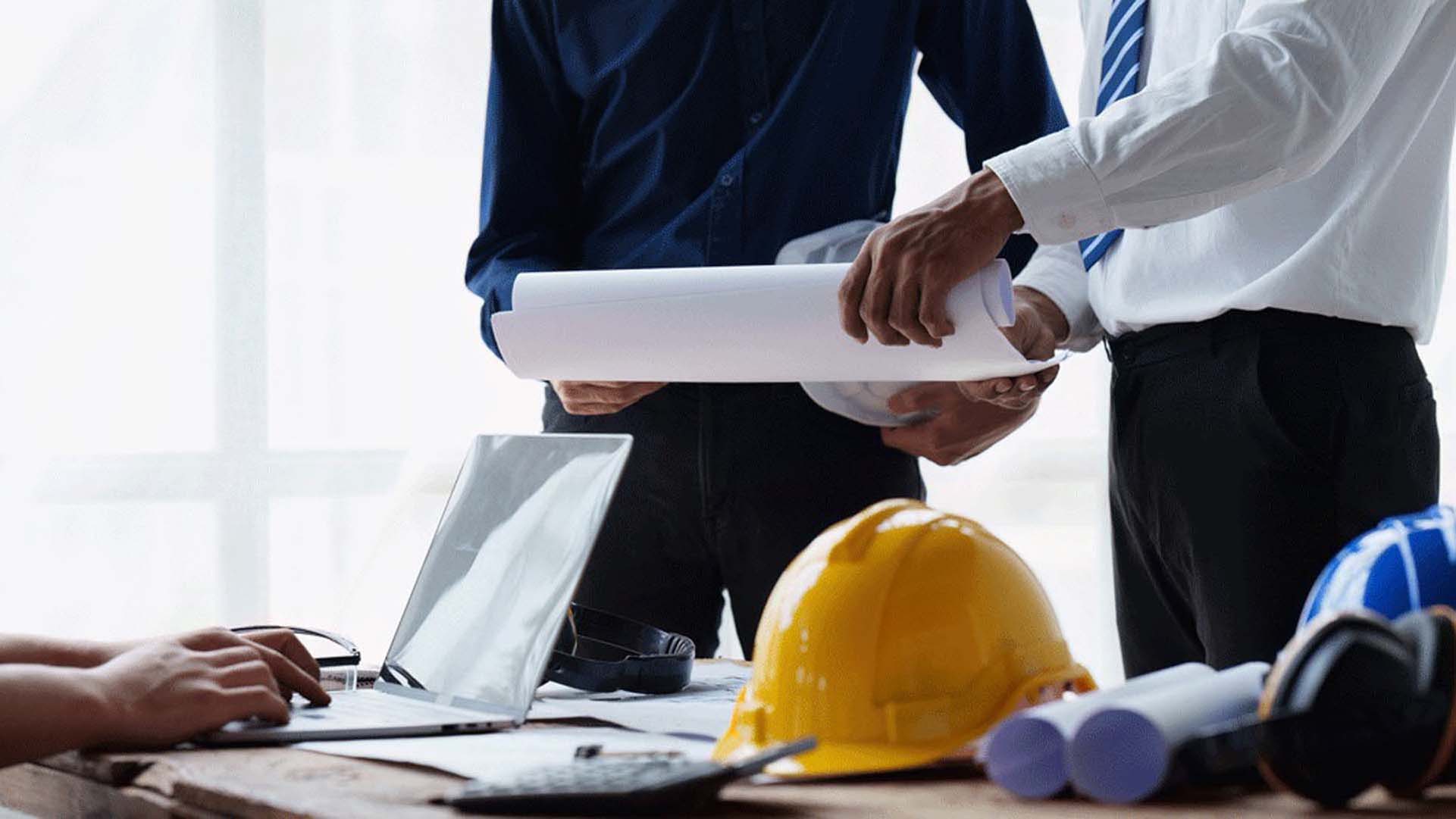 Technical information for Lumon Railing
Lumon's balcony railing system has an elaborate and detailed design. The railing structure and the various joint elements are designed so that it sits properly on the balcony structures.
By downloading Lumon's design library for ProdLib or BIMObject, you can use the REVIT, ArchiCAD and AutoCAD objects to design your facade just the way you want it. By accessing the Planning Guide, you can explore technical specifications, installation instructions, and maintenance guidelines to ensure that your project is a success.
You can download Lumon's complete product library in BIMObject here or ProdLib here or Planning Guide.

Ask for an estimate or more information
We are happy to help on any questions regarding our products and solutions on all project phases.