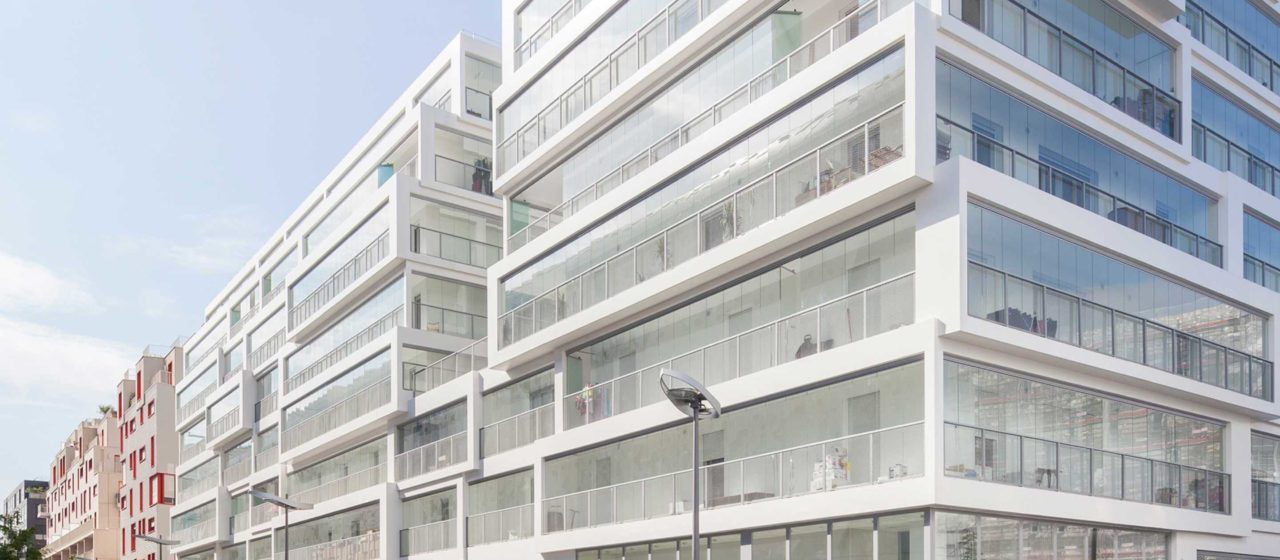 Missed business opportunity? – Easy calculation. Learn how.
We at Lumon have been developing frameless sliding and folding balcony glazing solutions for three decades. We have seen more and more happy faces of our clients. We have witnessed the numerous ways of people making the most out of their balconies. We have seen the great difference it makes to a family living in an apartment with a glazed balcony.
How does this formula work out?

The above has of course become clear to us over the years. However, until now we haven't been able to share facts on how much owners or buyers of apartments are actually willing to pay for the added value brought in by a glazed balcony as opposed to an open balcony? Last year we wanted to take another step and find out.
We decided to give the assignment to a well acknowledged market research company Taloustutkimus Oy.
The research indicates that including balcony glazing as part of the balcony concept increases the value of the apartment
80% of central European home owners think that balcony glazing increases the value of the apartment more than 5%. And in average 15% of the respondents believe that the increase in price is more than 20%.
In Germany 81% of the respondents expect that the value of the apartment will increase 5% or more. 10% of them assume the value to be 20% bigger with balcony glazing.
In Switzerland the numbers show even higher increase in the apartment value; 88% of the respondents believe the value will be at least 5% higher, 18% of them believe it will increase more than 20%.
In the Netherlands it turned out that 73% of all respondents were willing to pay at least €6000 extra for the additional feature of frameless sliding and folding balcony glazing system on their standard size (7m2) balcony, (€6000 is equivalent to 1,5 m2 of average price of actual living space.) Furthermore, 72% of respondents had the opinion that including balcony glazing as part of the balcony concept would increase the value of the apartment at least 5%, according to many a lot more than that.
The research data clearly indicated that there is a lot of hidden business potential on the balconies or residential developments of today. It seems obvious that creating better homes with Lumon balcony glazing does mean better value for apartments and more profitable business to the developer.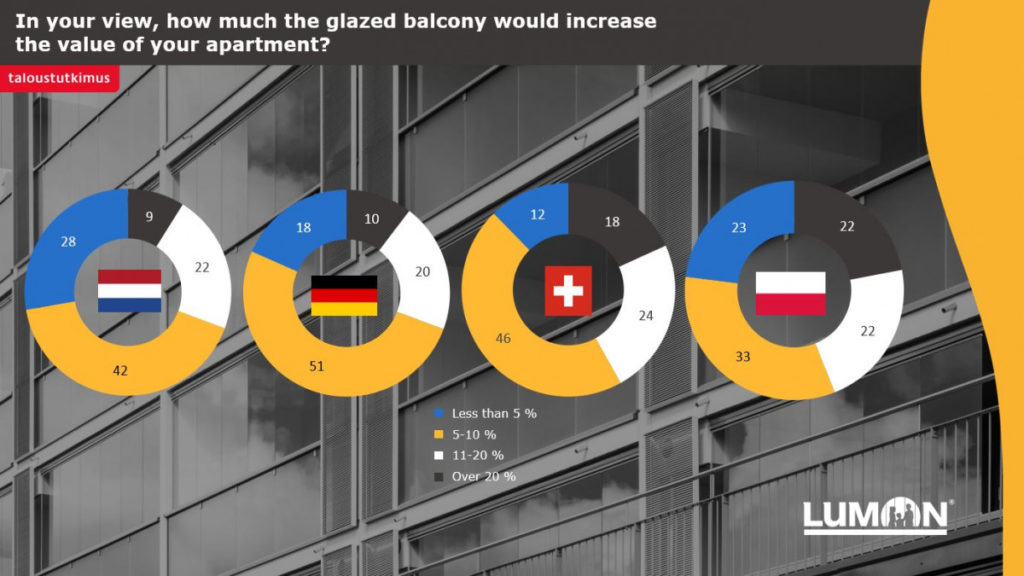 How the research was executed?
Taloustutkimus is an independent market research company operating in Finland and all Baltic countries.
Identical research amongst potential apartment buyers was run in number of European countries (Germany, Netherlands, Switzerland, Poland) by utilizing local independent partners of Taloustutkimus. The target group of the study was 25-75 year old citizens living in apartments, either living in their own apartment or currently renting but planning to buy their own home in the next three years. All respondents live in major cities in their respective countries. The target was to get 200 completed answers per target country, the total number of respondents being 800 all together.
5 ways balcony glazing adds appeal and value to city housing  

The discussion surrounding housing that is 'too expensive' is all too common in today's world. At the same time, residents and homebuyers are more and more demanding of what their home should look like, despite the high prices. This creates a paradox, where developers and builders must focus on building efficient buildings which also serve the more complex desires of homeowners.

Read more…

Excellence in outdoor living design

Lumon is growing and developing into its own phenomenon – a globally significant company in the balcony and terrace market. While the recognition of balcony glazing products can be seen as a benefit, this also poses a challenge on the company's products: Meeting even the toughest international expectations and requirements.

Read more…

The rise in wellness architecture

Architectural spaces have long been recognized to promote social order and interaction with others as well as the environment. However, the connection of architecture and wellness has only become a popular topic in recent years, the pandemic acting as a catalyst in the conversation. In 2022, the theme of the World Architecture Day was even coined: "Architecture for well-being." The discourse around wellness and architecture has given birth to a concept fitting in its name: "wellness architecture."

Read more…