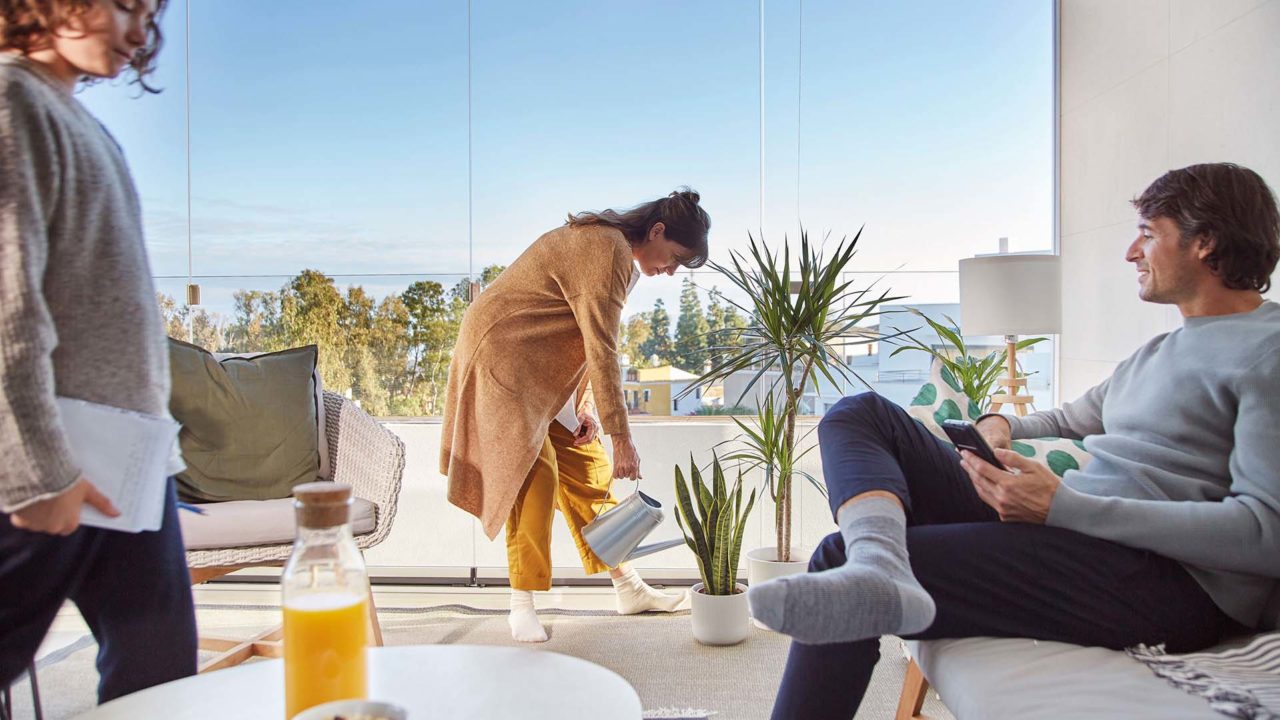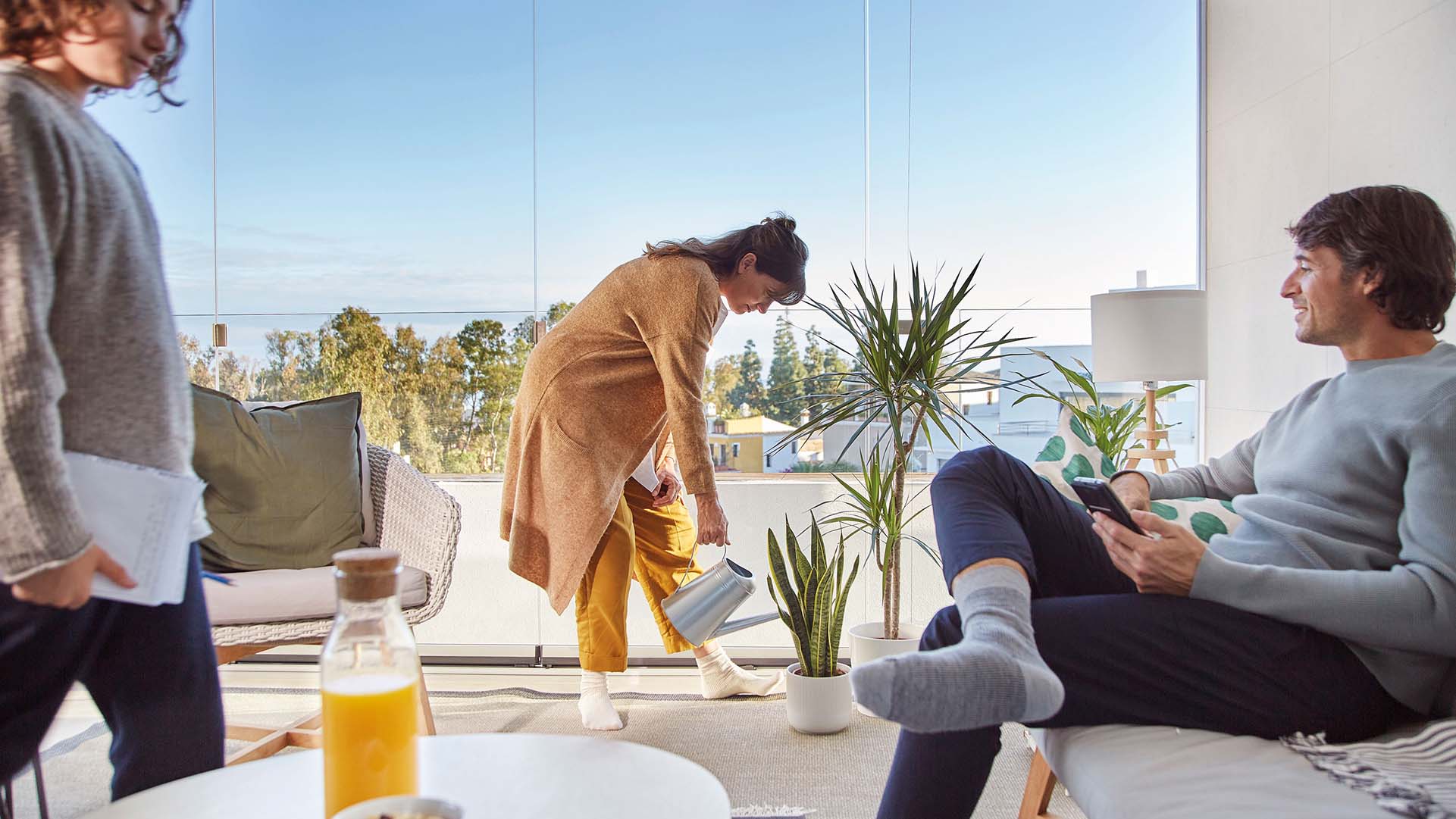 Lumon Glazing
The ultimate solution for a balcony or terrace
Lumon Glazing is the ultimate solution for a balcony or terrace. Our innovative glass panel system offers the unique ability to fully retract, giving you the freedom to fully or partially open the outdoor space as desired. With no frames to obstruct the balcony or terrace, you can enjoy unimpeded panoramic views of the surrounding scenery. The frameless design also makes for easy use and maintenance, ensuring that you can fully enjoy your balcony or terrace. Made from high-quality materials, Lumon Glazing combines elegant design with practicality, providing you with an exceptional outdoor living experience.
The Lumon glazing system consists of two horizontal aluminium profiles located at the top of the ceiling and at the bottom on a parapet or on the floor, depending on which solution is most suitable for your project. The closed glazing provides excellent protection for the facade and the concrete structures and thus extends future renovation intervals.
Designed for extreme weather
Technically and visually cohesive entity
Adds living space to your home
Improves energy efficiency
Long lifespan design
Stylish vertical metal handles
Effective sound insulation
Integrated blinds system
Guaranteed quality
Two different kind of versions of the Lumon Glazing – retractable and sliding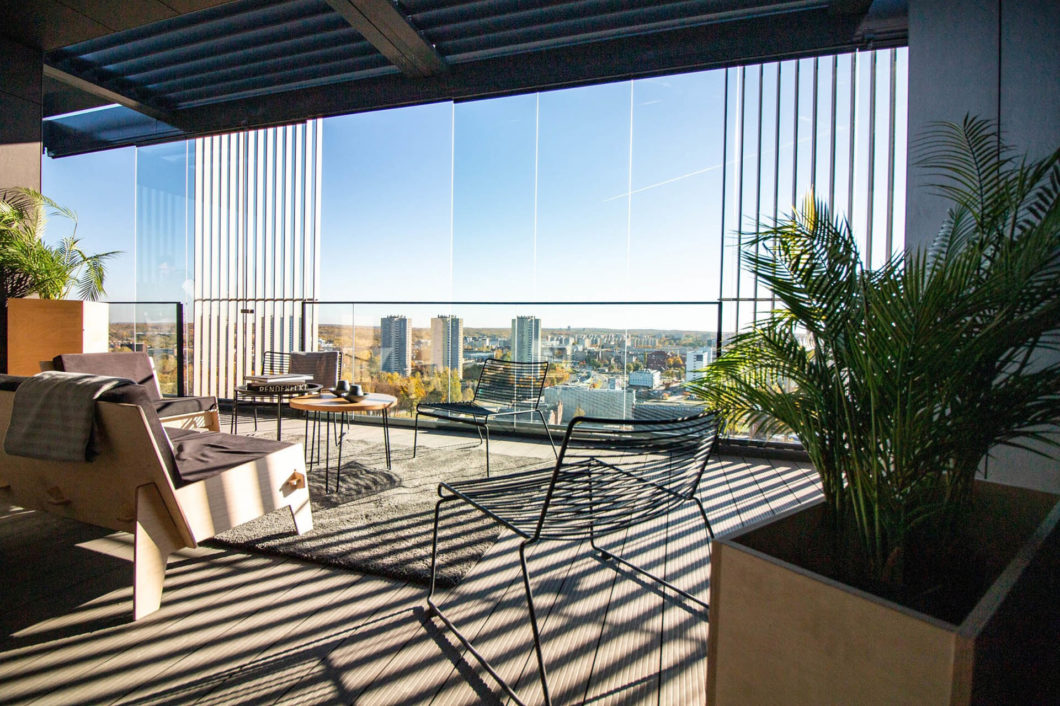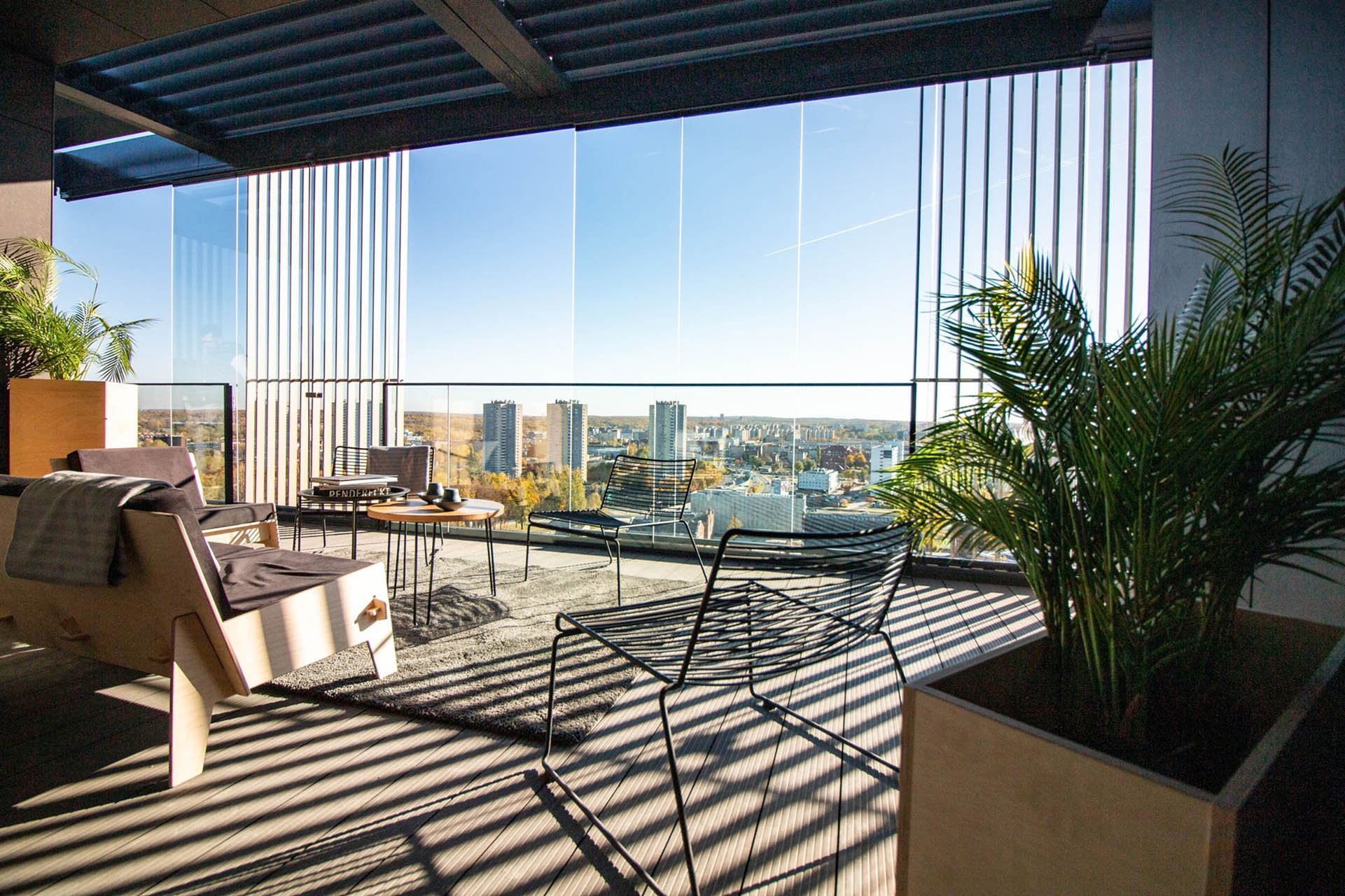 Retractable Lumon Glazing is perfect if you want a fully-opening solution
Lumon's retractable glazing provides homeowners with many advantages, as well as the added flexibility of being able to open and close the glass balcony or terrace panels as desired.
Unlike typical frameless glass sliding doors, our frameless retractable glazing opens fully and folds tidily against an interior wall. Because they fold to the inside, our glass panes are easy to use and maintain. They can also be secured to prevent them from moving in the wind.
With retractable Lumon Glazing, we are able to provide glazings for all kind of projects around the world.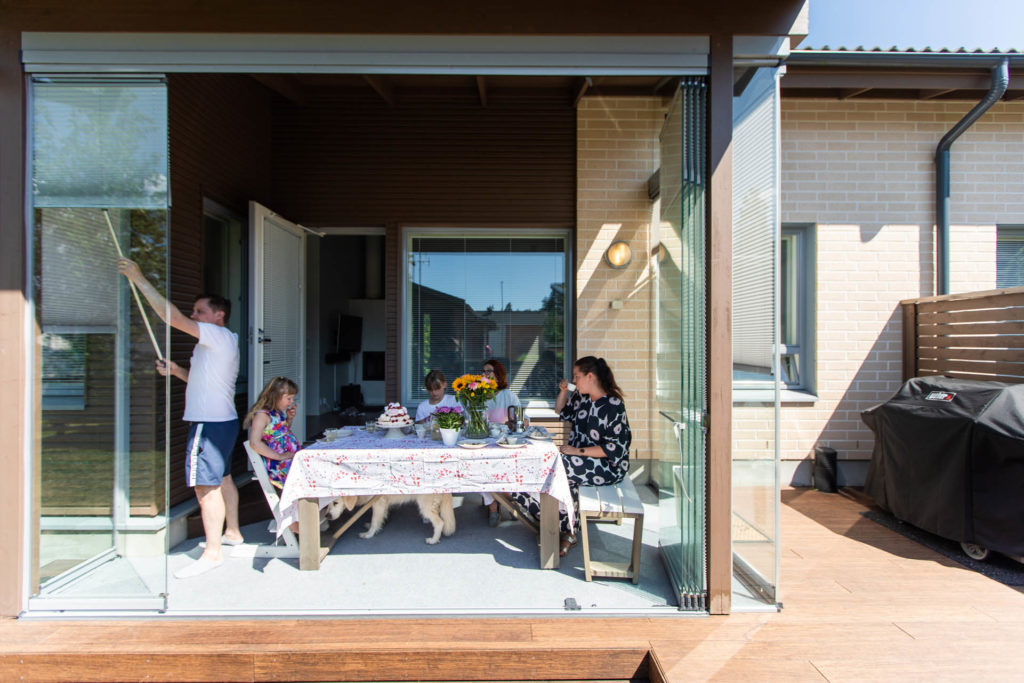 Retractable Lumon Glazing has multiple features
The panes of the glazings are 6, 8, 10 or even 12mm toughened glass.
The Lumon glazing systems consist of uninsulated aluminium profiles and single glass panes.
Ventilation on the balcony is provided through the 2-3 mm gaps between the panes.
It can be fitted with 3 types of telescopic profiles and has two kinds of lower profiles. The advantage of the telescopic profile is that it absorbs building shrinkage or other opening changes and allows the system to be adjusted
Upper bearing system which makes the glazing works perfectly
Glazing can be installed on top of a railing or as a floor-by-floor high glazing.
Toughened glass panes are attached to the profiles through separate mechanisms, allowing the panes to slide and turn.
Lower profile can be a low threshold or even embedded totally.
Lumon glazings reduce traffic noise by 8-16 dB. The results vary due to the thickness of the panes and the environmental conditions. A decrease of 10 dB corresponds to half as much audible noise.
When the height of the building, the location or the glazing height set special requirements, the components are replaced with stronger options. While glass may suggest something delicate, our balcony glass is designed and tested to stand up to strong winds and harsh conditions, while still looking sleek and elegant.


See the technical details of retractable Lumon Glazing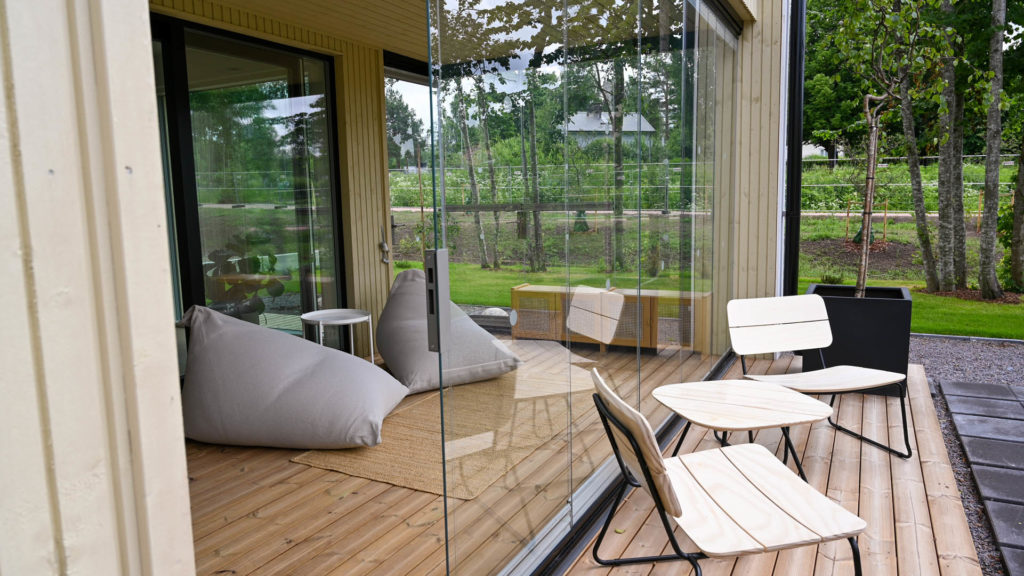 Sliding Lumon Glazing scales according to the space, conditions and customer needs
There is also a need for glazing products with sliding glass panes. Sliding Lumon Glazing has been developed for this purpose. Balcony or terrace glazing systems with sliding glasses scale according to the space, demands of the conditions, and customer needs. The glass panes can be opened both inside and outside.
Sliding glazing can be installed on top of a railing or as a room-high glazing.
Toughened glass panes are attached to the profiles through separate mechanisms, allowing the panes to slide.
The frameless glazing system has glasses that slide interleadingly and are lower bearing.
​The glazing can be fitted with aluminium vertical frames or vertical seals.
The system consists of an upper and a lower aluminium profile which are mounted to the balcony ceiling and on the handrail or floor. Toughened glass panes, with glass beads on the bottom, are mounted between the upper and lower profiles. ​
The glass panes slide open with the help of roller bearing components that are fixed to each glazing bead. ​
Vertical and lateral silicone and rubber sealing profiles are used to cover gaps and openings between the glazing system and the surrounding structures to ensure sufficient water, wind and sound proofing.​


See the technical details of sliding Lumon Glazing

Ask for an estimate or more information
We are happy to help on any questions regarding our products and solutions on all project phases.
We have now had our window glass enclosure installed for several months. We've had some strong winds, measured up to 100 km/h. On windy days, we keep the glass windows shut and we can still be on the balcony, as if it was a calm day. That is wonderful. Sure, we can hear the wind blowing, but we are outside in comfort. We love our glass enclosures.

Bengt L.,Toronto, Canada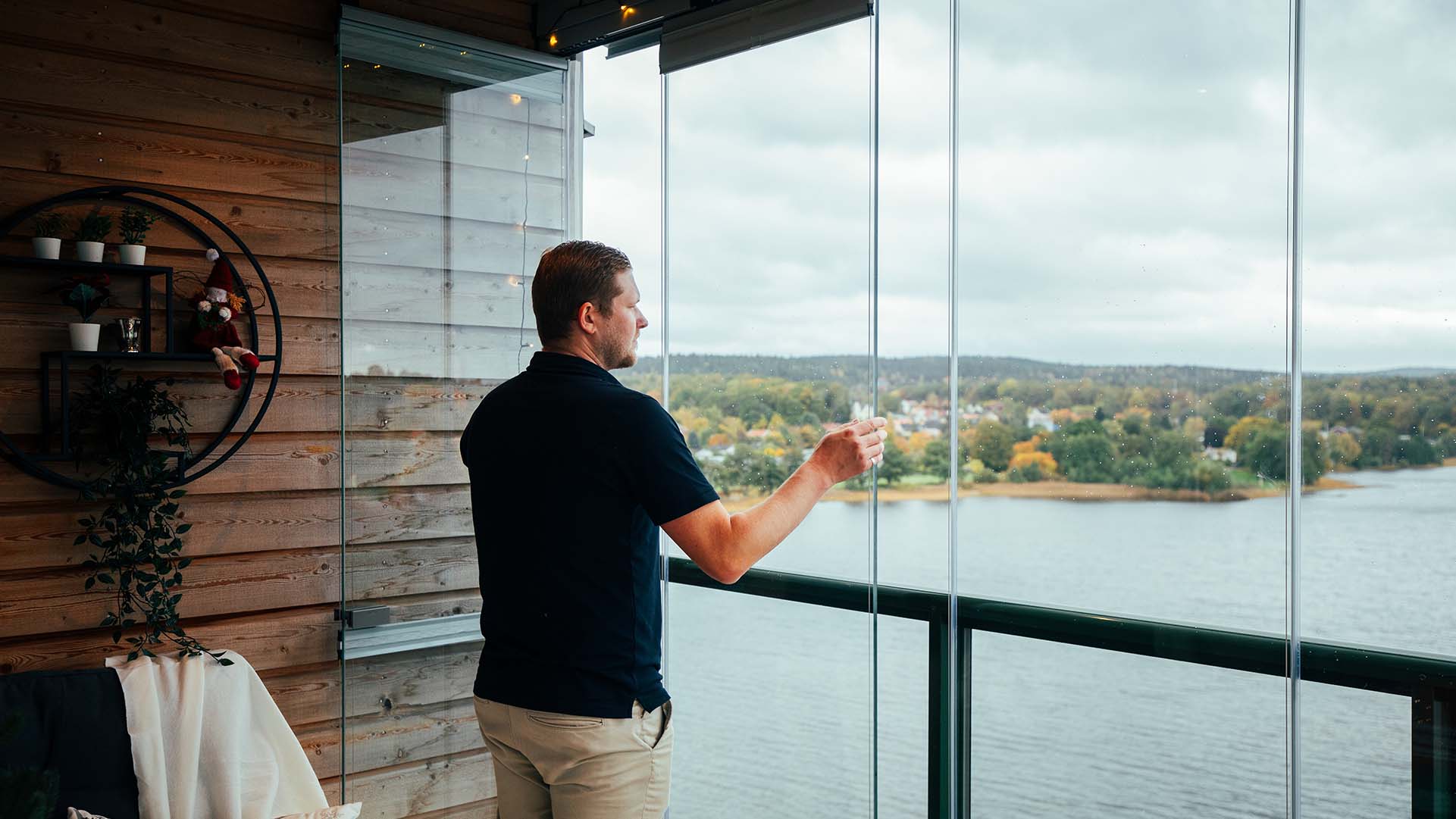 The most common applications of Lumon Glazing: Floor-to-roof or railing-to-roof
Although we can customise our Lumon balcony glass system for almost any use, the most common applications are railing-to-roof and floor-to-roof balcony glass.
Floor-to-roof balcony glass sits inside the balcony railing, providing another simple and elegant solution.
Railing-to-roof balcony glass is designed to work with existing balcony rails, extending from the top of the railing to the ceiling. Alternatively, we can replace your existing balcony railing with a Lumon glass balcony railing, available with or without vertical posts. Lumon railings and Lumon balcony glass look phenomenal together and create little visual obstruction.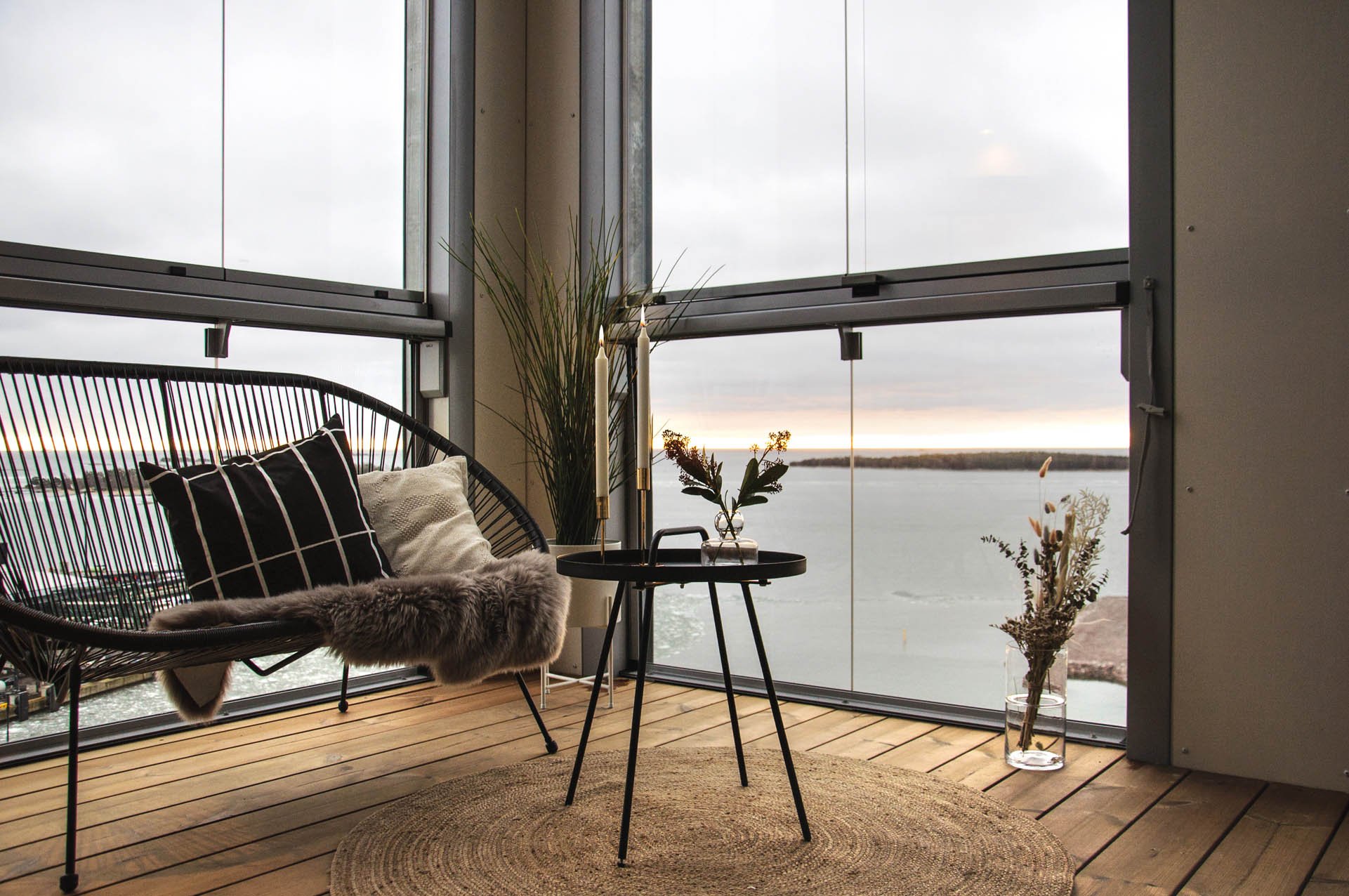 Custom-made for each balcony or terrace
All options for balcony glass are beautiful and our design consultants will use their expertise to provide guidance as to which system would best suit your needs and your project. Lumon glazings are custom made for each balcony or terrace. All materials and components related to the basic product (upper and lower profiles and equipped glazing panes) are supplied in one delivery patch directly to the constrution site.
Regardless of which option you choose, you'll be amazed at how light it feels and how easily it opens and closes.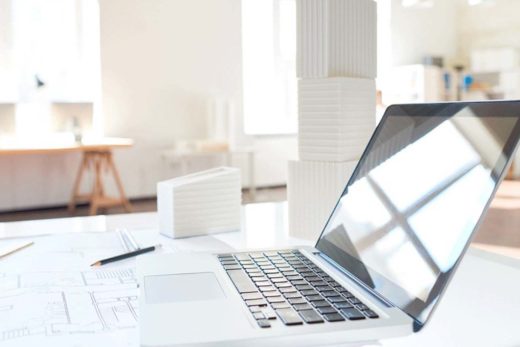 Design objects for Lumon Glazing products
The Lumon Glazing system is equipped with a sophisticated and intricate design that ensures it is seamlessly integrated with balcony structures. To facilitate the design process, you can access Lumon's design library on ProdLib or BIMObject to download our products' REVIT, ArchiCAD, and AutoCAD objects.

Moreover, you can visit the Lumon Planning Guide to obtain essential technical information such as installation instructions, maintenance guidelines, and technical specifications that will help ensure the success of your project.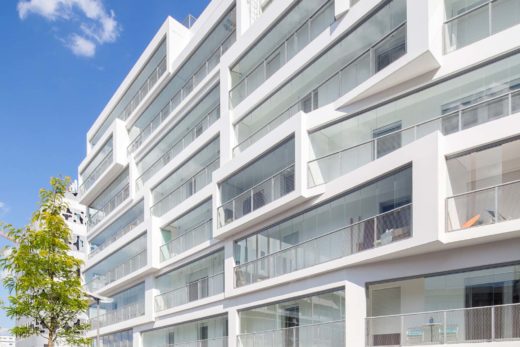 Explore our customer stories
At Lumon, we take pride in creating innovative glazing solutions that transform spaces and enhance the lives of our customers. Our commitment to quality, design, and functionality is evident in the countless projects we have completed around the world.

If you're seeking inspiration and want to see Lumon glazing solutions in action, browse through our customer stories to see some real-life experiences shared by our satisfied customers.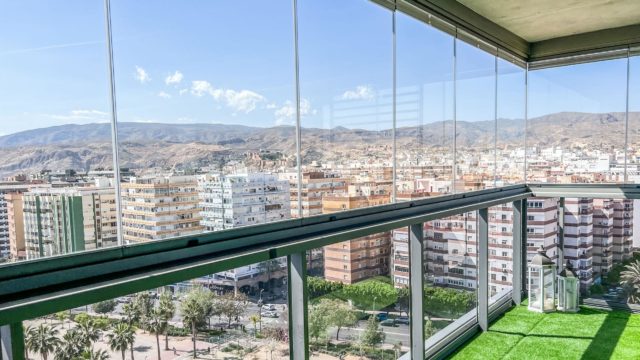 EPD for Lumon Group's products
An Environmental Product Declaration (EPD) is now available for Lumon Group's balcony, façade and terrace products. The Lumon EPD has been developed based on the principle of modularity, which allows the creation of EPD results for any of Lumon's products. The Lumon EPD is third party verified, and it provides data about the environmental impacts of Lumon products through their life cycle.
5 ways balcony glazing adds appeal and value to city housing  

The discussion surrounding housing that is 'too expensive' is all too common in today's world. At the same time, residents and homebuyers are more and more demanding of what their home should look like, despite the high prices. This creates a paradox, where developers and builders must focus on building efficient buildings which also serve the more complex desires of homeowners.

Read more…

Excellence in outdoor living design

Lumon is growing and developing into its own phenomenon – a globally significant company in the balcony and terrace market. While the recognition of balcony glazing products can be seen as a benefit, this also poses a challenge on the company's products: Meeting even the toughest international expectations and requirements.

Read more…

The rise in wellness architecture

Architectural spaces have long been recognized to promote social order and interaction with others as well as the environment. However, the connection of architecture and wellness has only become a popular topic in recent years, the pandemic acting as a catalyst in the conversation. In 2022, the theme of the World Architecture Day was even coined: "Architecture for well-being." The discourse around wellness and architecture has given birth to a concept fitting in its name: "wellness architecture."

Read more…