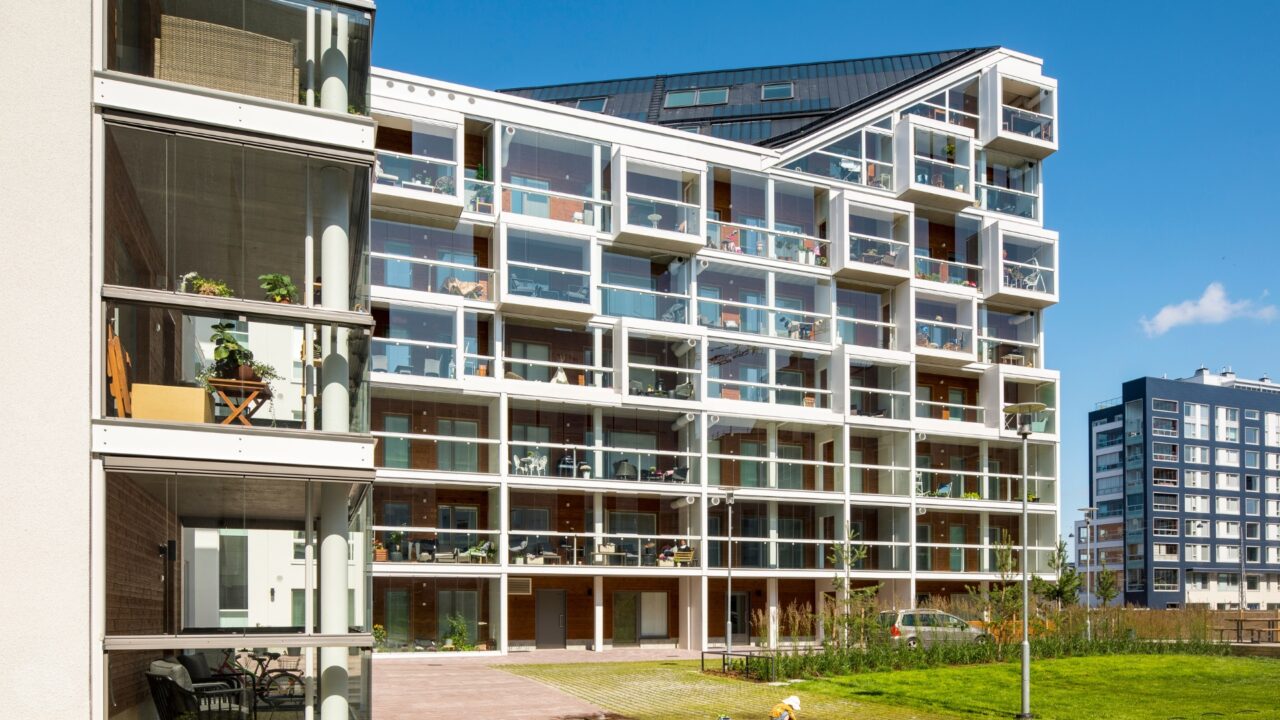 Excellence in outdoor living design
Meeting international demands
The real question is not how design is helping the company to succeed but how the company is helping the society to develop

Milton Glaser on Design
An introduction
Lumon is growing and developing into its own phenomenon – a globally significant company in the balcony and terrace market. While the recognition of balcony glazing products can be seen as a benefit, this also poses a challenge on the company's products: Meeting even the toughest international expectations and requirements.
To give a brief introduction, Lumon is committed to raising the quality of outdoor living by designing, manufacturing, marketing and installing sustainable and versatile retractable glazing solutions. This commitment is based on the company's vast 40-year experience as a trailblazer in the industry. Internal management of the supply chain guarantees high quality, lean logistics, and professional and safe installation. Recent years have led this globally expanding company to develop into its own phenomenon – a concept to not only influence the building industry, but the way architectural spaces are to shape society.
Jouni Teittinen is a Finnish Industrial Designer with professional experience of more than 40 years in product design, brand development & management. He has been a design partner for a variety of locally & globally operating Finnish and Scandinavian companies but also a designer for game changing, successful start-up companies. Teittinen has won numerous awards & honorable mentions for his designs in home appliances, environment & urban space, wellness & life science and energy & sustainability such as the IF Gute Industrieform competition, the Red Dot Design Award, Neste Forma Finlandia and Pro Finnish Design competitions. Design director Teittinen with his team colleagues has also been involved in the design and development of Lumon's product since the early 2000's. In this blog, Teittinen will discuss the crucial elements of design, and how design is not only connected to the product, but society at large.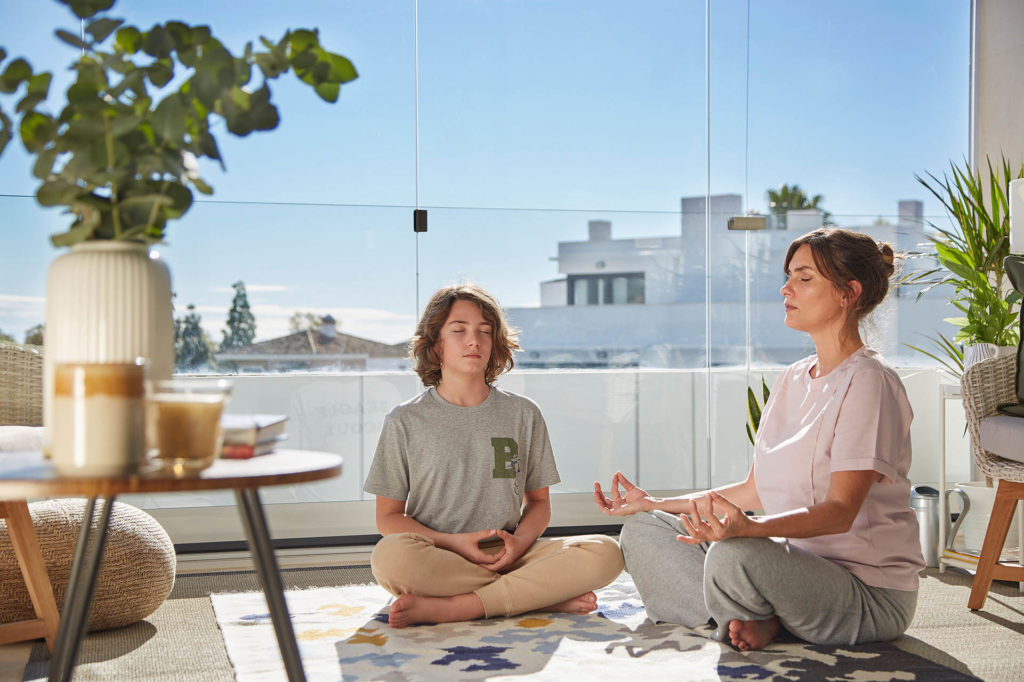 Meeting the demands of international design
Lumon product development is guided by the goal to make products which provide benefit for our customers throughout the entire product lifecycle. Following the company's Design heritage, the products have developed over the years to be the best of their kind. The trustworthy metal locks, handles and pulls of the glazing systems fulfill the most demanding international wishes. Modern and timeless design, a perfect finish and reliable metal structures guarantee long-term, safe and pleasant functionality.
Lumon products are designed to fit the international quite rich and varied construction traditions, blending into their applications, while respecting the architecture of the buildings and supporting them with design. Cost-conscious consumers with an awareness of quality are very aware of the products they support, constantly making product comparisons. The customer's primary expectations in products and services are quality, reliability, ease of use and a good price/quality ratio.
Matching customer expectations with product development – safe, easy, and enjoyable to use
Lumon Industrial Design is an important part of the systematic, profound R&D development & operational processes. The Design Target is to create safe, easy and enjoyable to use products of extended space/room for living (balcony, terrace) with high visible, tactile, audible quality and user experience. These tactile elements are behind a bigger promise: to create more room for life.
Lumon Design has developed its modern, modest elegance and design principles for global international markets of glazing products. The Lumon Glazing product line is a comprehensive system that will allow architects and contractors versatile applicate solutions for their needs. The system consists of an optimum amount products, elements and accessories to be applied successfully for widely differing international architectural styles and cultures.
Compact dimensions and optimized use of durable materials parts are main principles of our design to guarantee flawless functionality, durability and cost-effective mass production.
Functional tactile locking, opening and adjusting parts are carefully designed safe, intuitive and friendly to use for customers – regardless of age and gender of the user.
Lumon parts are designed and manufactured to achieve "superior tactile & audible feedback in use", and they form a coherent Lumon system with visible brand identifiers. The main tactile parts will have engraved compact, stylish, unobtrusive brand identifier – Lumon logo – to express high quality finishing on all components of the product. The coming together of a complex product is outlined with close attention to detail.
Sustainability is timeless design
Solid constructions and optimized materials with accurately designed details ensure long product life cycle and thus represent the Lumon Design principles of sustainable development. Sustainability in design, is, in large part, timeless design.
Lumon Design's minimalistic form follows function design heritage, and aims to remove unnecessary parts from structures. Fixing screws, visible seams and sharp shapes that feel uncomfortable have been deliberately avoided. Thoughtful design and high-quality implementation withstand critical scrutiny. Quality can be experienced with your eyes closed: tactile surfaces, comfortable and safe edges, intuitive use, reliable and assuring feedback sounds when used. Users tend to avoid design solutions and features which are annoying and confusing.
Timeless design is a promise of longevity. The minimalism of Lumon Design – avoiding WOW-design, too flashy shapes and styles – is a result of sustainable design development. With restrained sensibility, we aim for a far-reaching timeless design that supports versatile architecture.
An unobtrusive, almost invisible, design is successful when the user of the product or space happily realizes later – perhaps over the years and over and over again – what a reasonable – durable, functional – product has been acquired. The courage to minimize unnecessary shapes and details are strong identifiers of pioneers and persistence.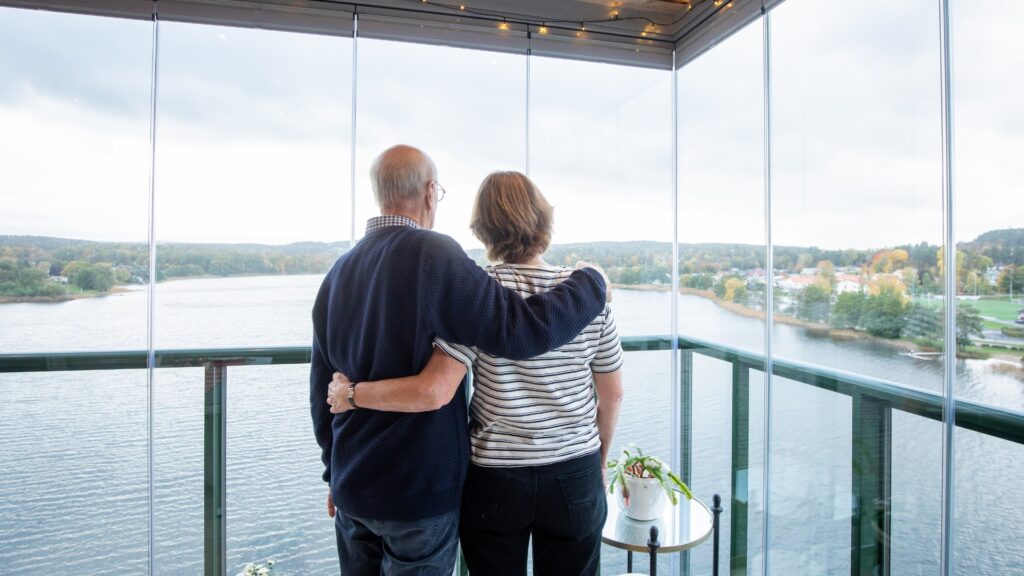 The design is ruled by the principle: "People will neglect the design that neglects its people"
Creating new, meaningful products and services with commercial success has a lot in common with listening carefully to the contrarians. Not only in-house experts or business experts, but those interacting daily with the product. When solving the most annoying features of concepts, products, and services, it is the everyday critics – customers and employees – that provide the ingredients for a competitive edge. By being unique, bold, and confident, while adapting "common sense", you will be on the road to success. This has been crucial to Lumon's story. Especially new startup companies utilize the opportunities others have neglected.
Technology leadership
Lumon is eagerly researching the possibilities for new technologies, materials, coatings and manufacturing methods to further promote the development and integration of meaningful features into glazing products, and thus, the comprehensive service and operating process of Lumon.
Lumon's product development is constantly looking into the future to find out tomorrow's needs, possible success factors and social changes with their effects. For productive companies, it is a condition of life. In this way, the consumer's needs and expectations can also be met in a timely manner in the future as well. Constantly and visibly renewing companies – with their products and services – also have the best appeal establishing their roles as leaders.
A key task for our R&D team is to find better solutions for the environment without compromising the safety of our products.  Whenever it is possible to choose a material or design that lowers the environmental impact of a product, we do. Material minimizing and recycling are important considerations when calculating the lifecycle costs and possibilities for product updates. Optimal design is a collective effort, where Lumon's long-term relationships promote and deliver an ongoing progress.
Excellence in design remains our target in all of Lumon's development and future activities. For now, we have created awesome possibilities for outstanding architecture, and versatile solutions to realize a bright tomorrow.
With our skills, experience, and expertise, we can influence societal structures with our strengths – in this case, with quality products influenced by thoughtfulness, comprehensiveness, and systematic development. Lumon's products aim to create more room for life, and to construct a future where outdoor living transforms the way in which we interact with our homes.
We are very eager to challenge architects and contractors in cooperation with us to create and develop alluring glazing solutions with undeniable benefits in urban & recreational environments. Let's build the future together.
Continue reading our blogs
The rise in wellness architecture

Architectural spaces have long been recognized to promote social order and interaction with others as well as the environment. However, the connection of architecture and wellness has only become a popular topic in recent years, the pandemic acting as a catalyst in the conversation. In 2022, the theme of the World Architecture Day was even coined: "Architecture for well-being." The discourse around wellness and architecture has given birth to a concept fitting in its name: "wellness architecture."

Read more…

Montgat project in Barcelona, Spain

Lumon España's latest construction project in Montgat, Barcelona has revolutionized the lives of families and enhanced sustainability and energy efficiency in real estate development.

Read more…

The developer glazed the balconies to get protection for noise and wind

Lumon Schweiz AG was chosen as a partner in the Feldbreite project in Emmen, Switzerland. This beautiful apartment complex was completed 2022, and it includes 21 pieces of threshold, room-high loggia-type glazings.

Read more…