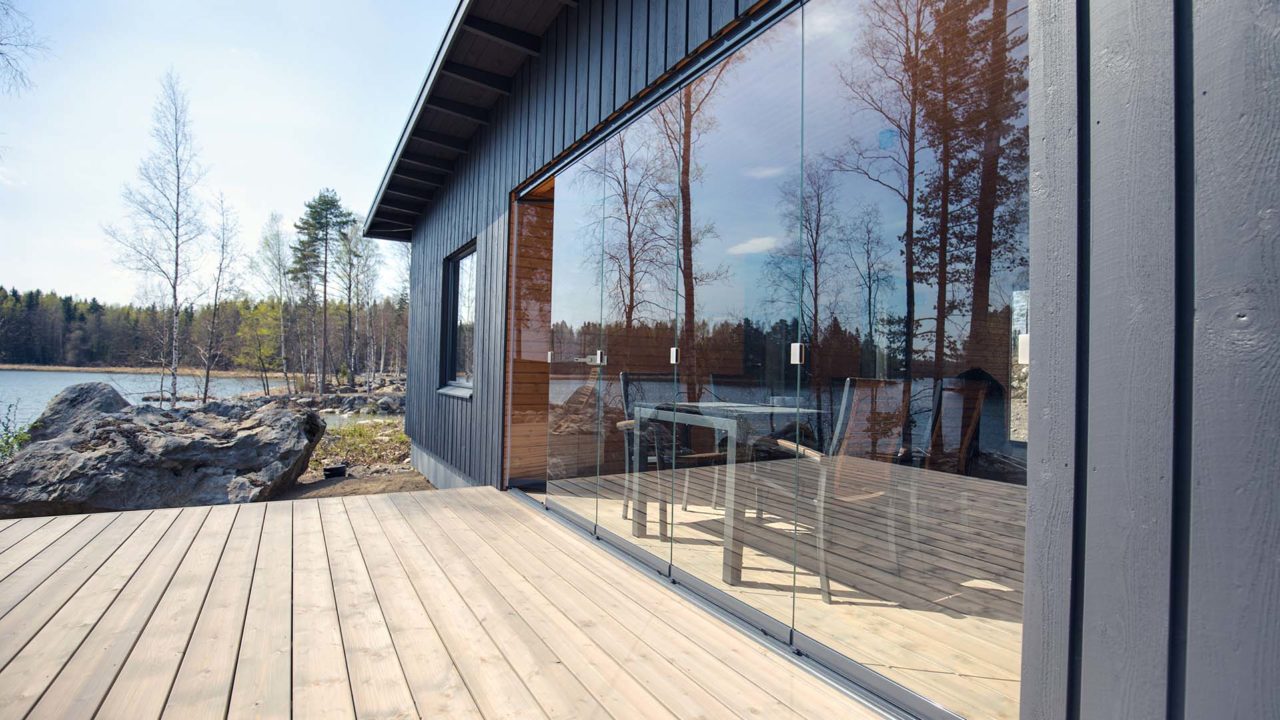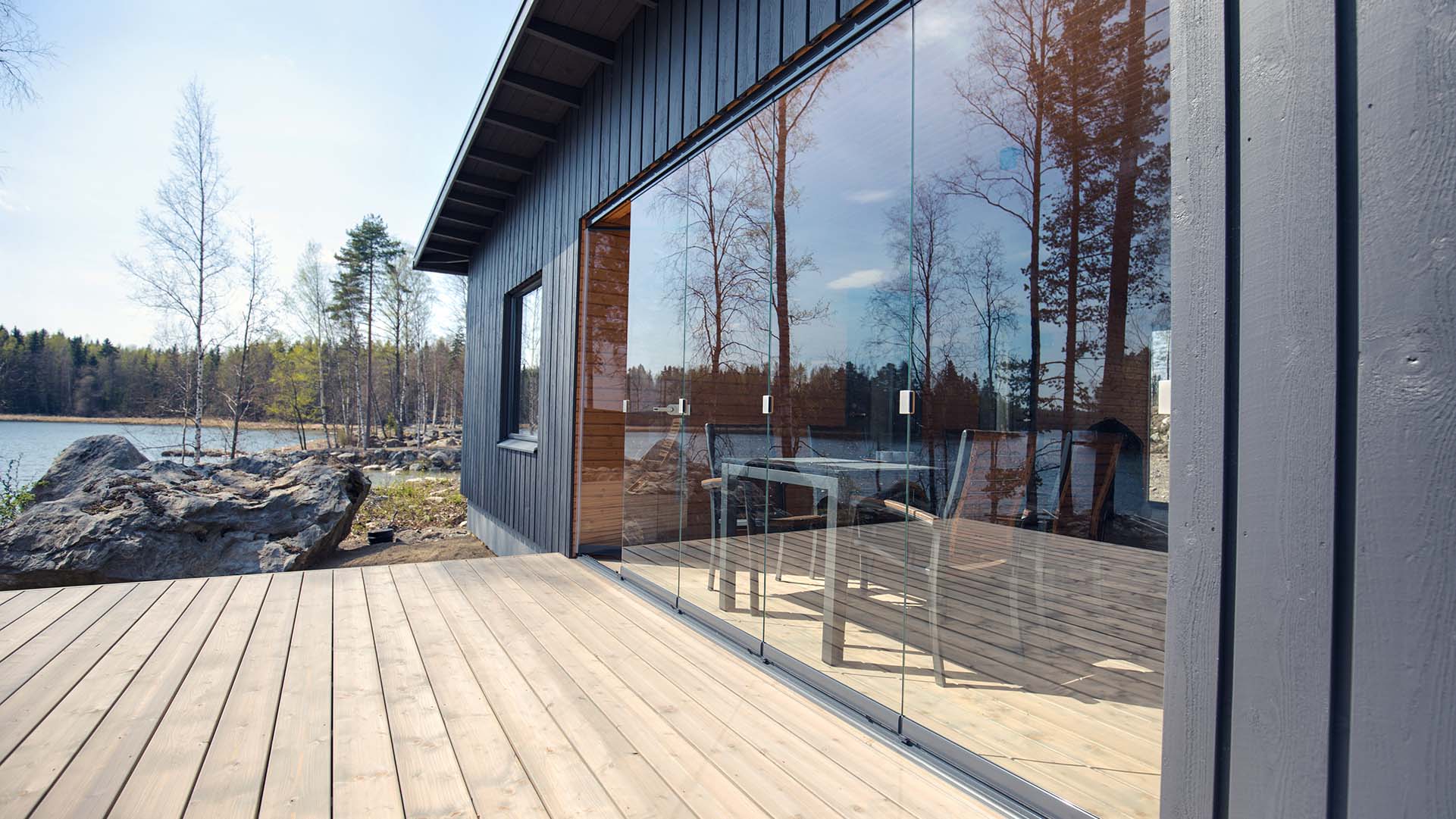 Terrace Glazing Price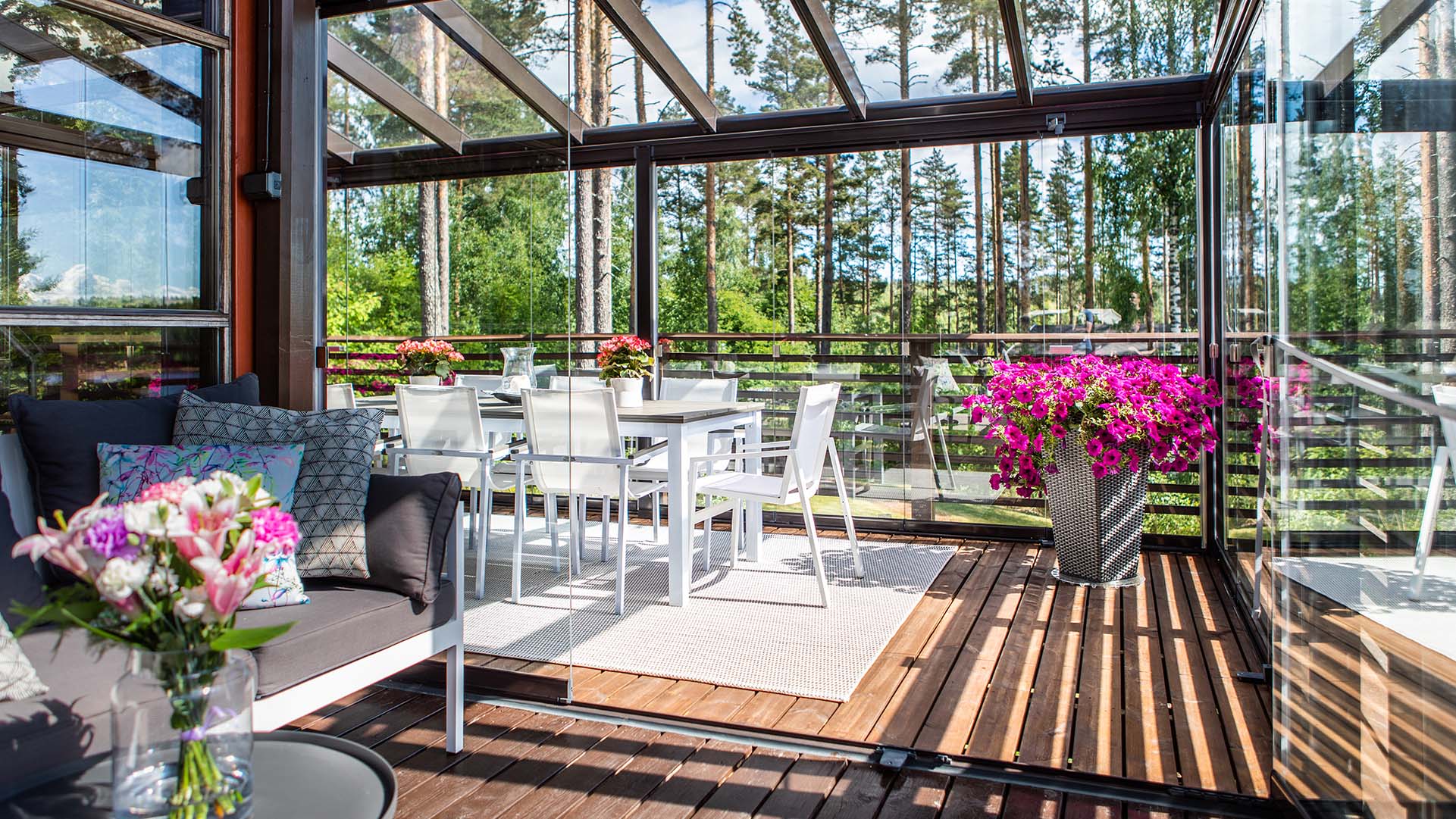 What makes up the price of Lumon terrace glazing?
Lumon terrace glazing is a high-quality product that is always designed and customised specifically for your own unique terrace. The price of Lumon terrace and sunroom glazing is based on the high-quality materials used and our service package, from design and manufacturing to installation. High-quality terrace glazing made of tempered glass will bring joy and comfort for decades to come.
The price of a terrace glazing system can vary greatly depending on several factors such as the terrace, size, glazing type, space height, colour options, materials used, selected accessories, installation complexity, wind load, structural stability of the roof, flooring, and project location, to name a few.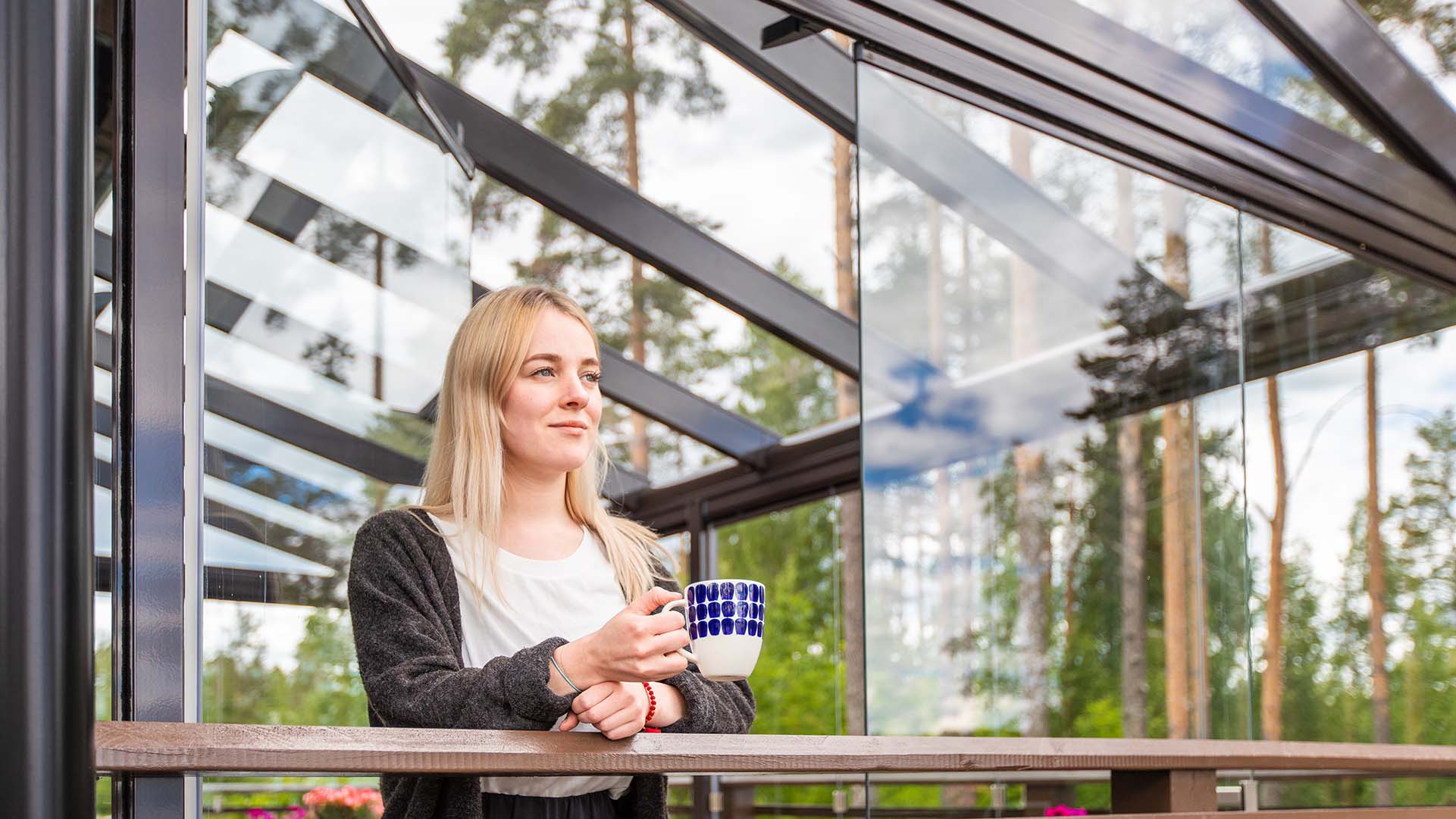 "Lumon is expensive" and other prejudices regarding Lumon terrace glazing – background on price formation
Sometimes you hear that terrace glazing is "just glass", and the price of the products may come as a surprise. However, when we open the story behind the price formation, the costs are understandable and justified.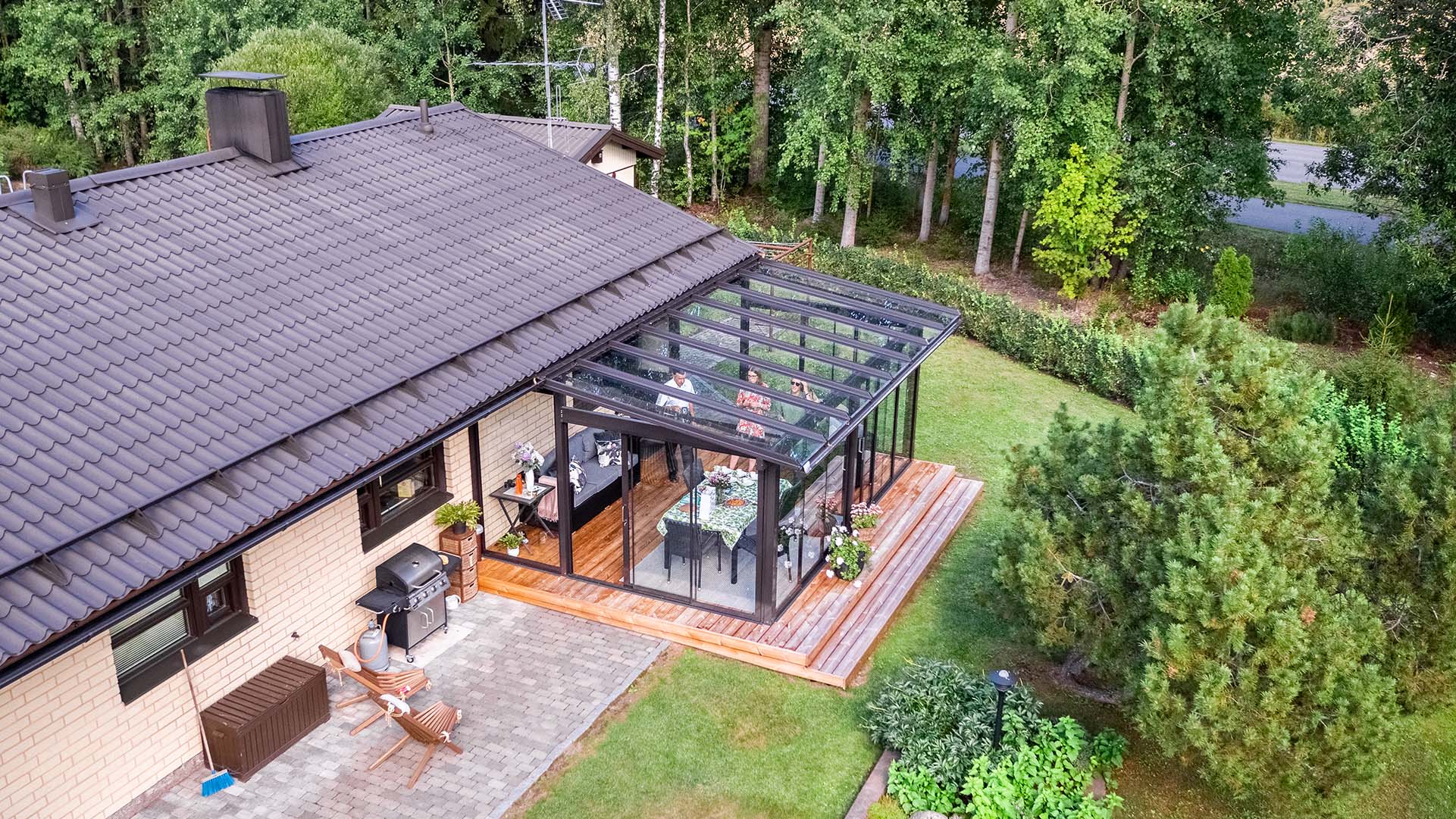 The price of a terrace glazing system consists of many factors
Terrace glazing is a long-term investment that increases the value of the entire home and improves living comfort! Here are some factors that affect the price and the sometimes inaccurate conceptions behind them.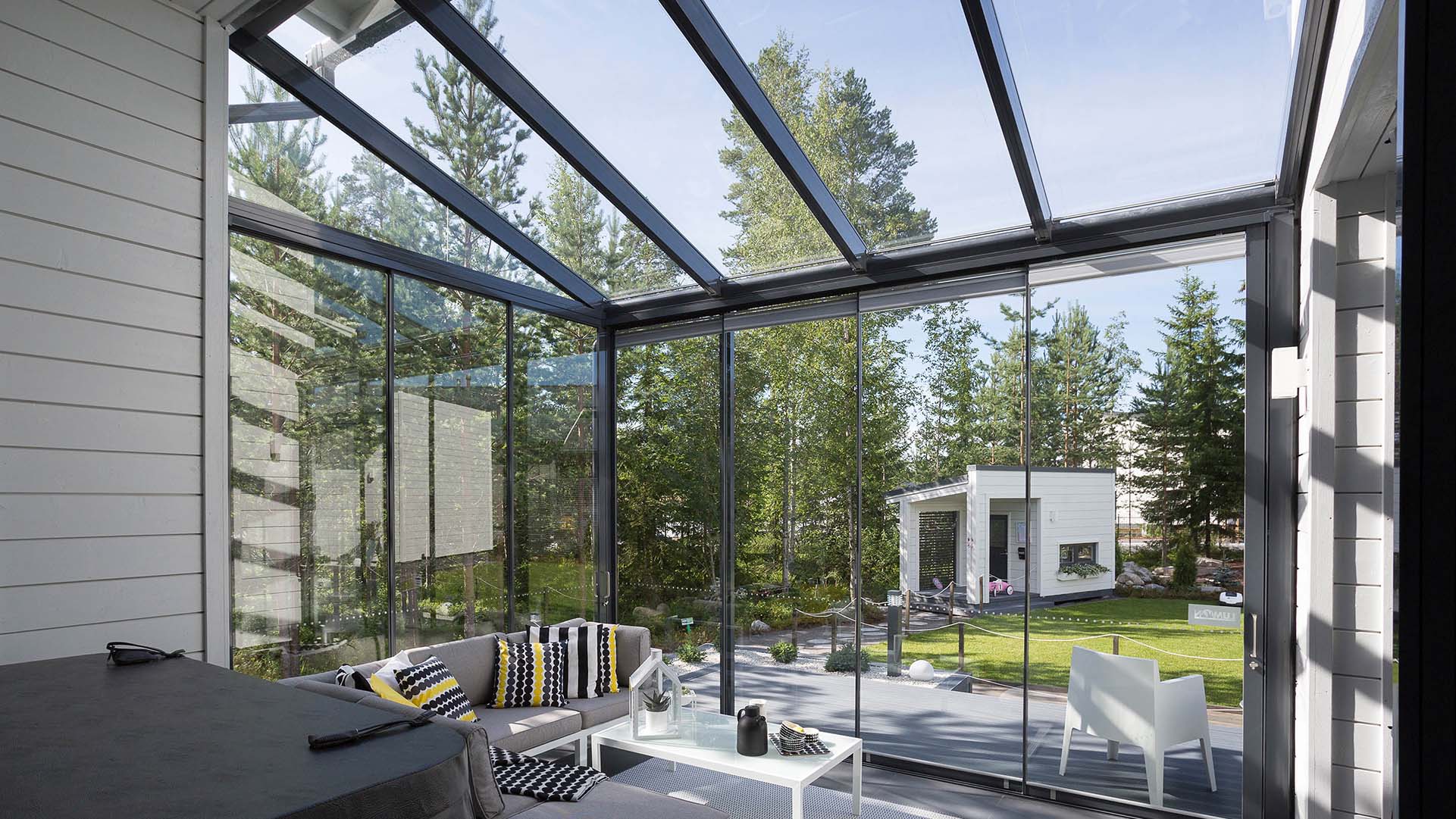 A unique tailor-made product
The price of a terrace glazing system consists of the product and its installation. However, the product is by no means "just glass", but an individual and unique custom-made solution that is always designed according to the specific terrace space.
In addition to the basic product, you can choose accessories, which naturally affect the price. In other words, Lumon terrace glazing products are not on the shelf waiting for a buyer, but specifically planned, manufactured and installed for each project.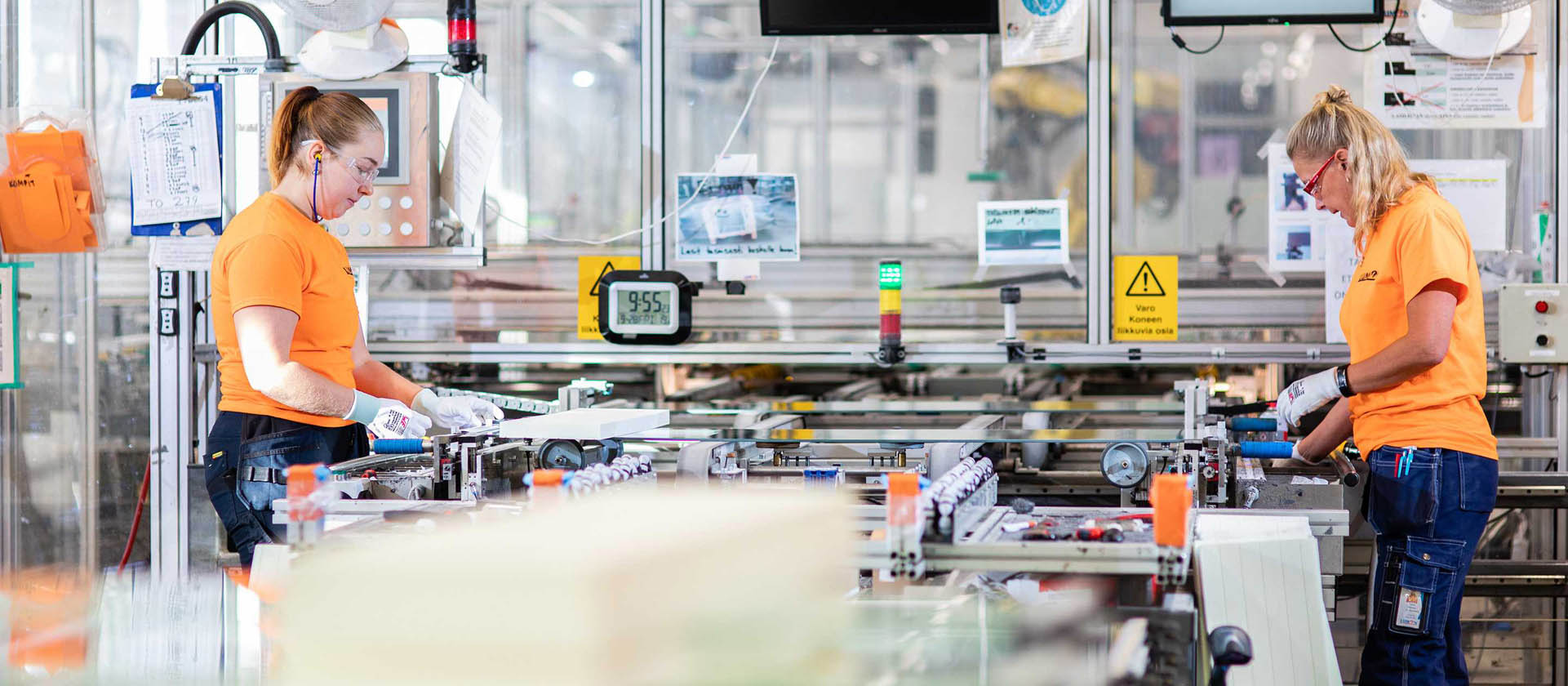 Product design and manufacturing
Lumon products are precisely designed and manufactured from start to finish in our own factories to meet all the requirements. We have learned to know the needs of customers over decades. Design work is naturally included in the price of Lumon products.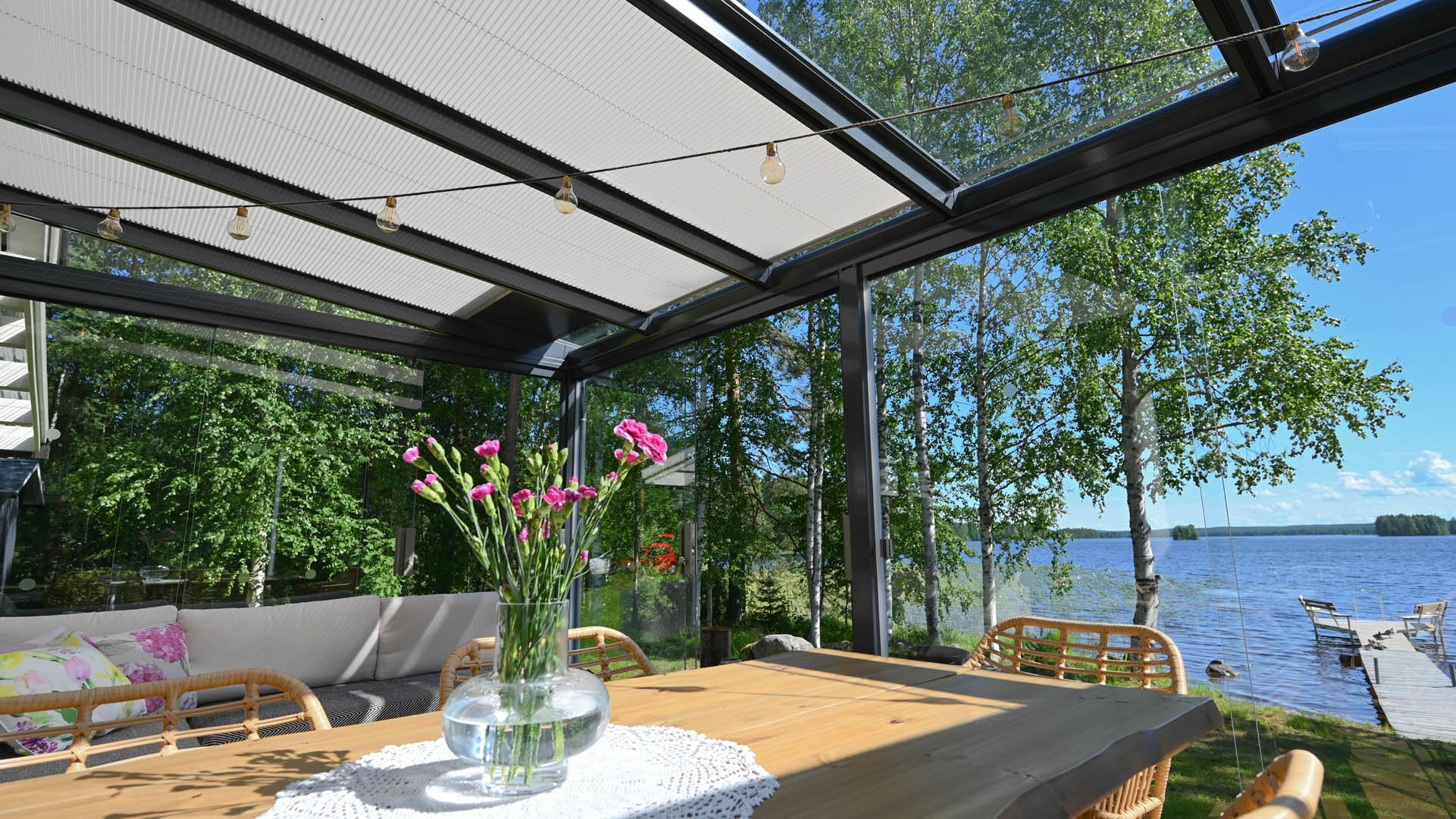 A Beautiful glazed terrace
Regarding the technical features, you should pay attention to the durability of the product, the thickness of the glass, and user experiences. Glass thickness has a direct connection to the user experience, as thin glass bends in the wind and is not as durable as a stronger alternative. As a rule, we at Lumon always use 8–10 mm tempered glass in terrace and sunroom glazing products. It's worth paying a little more for durability and get value for your money.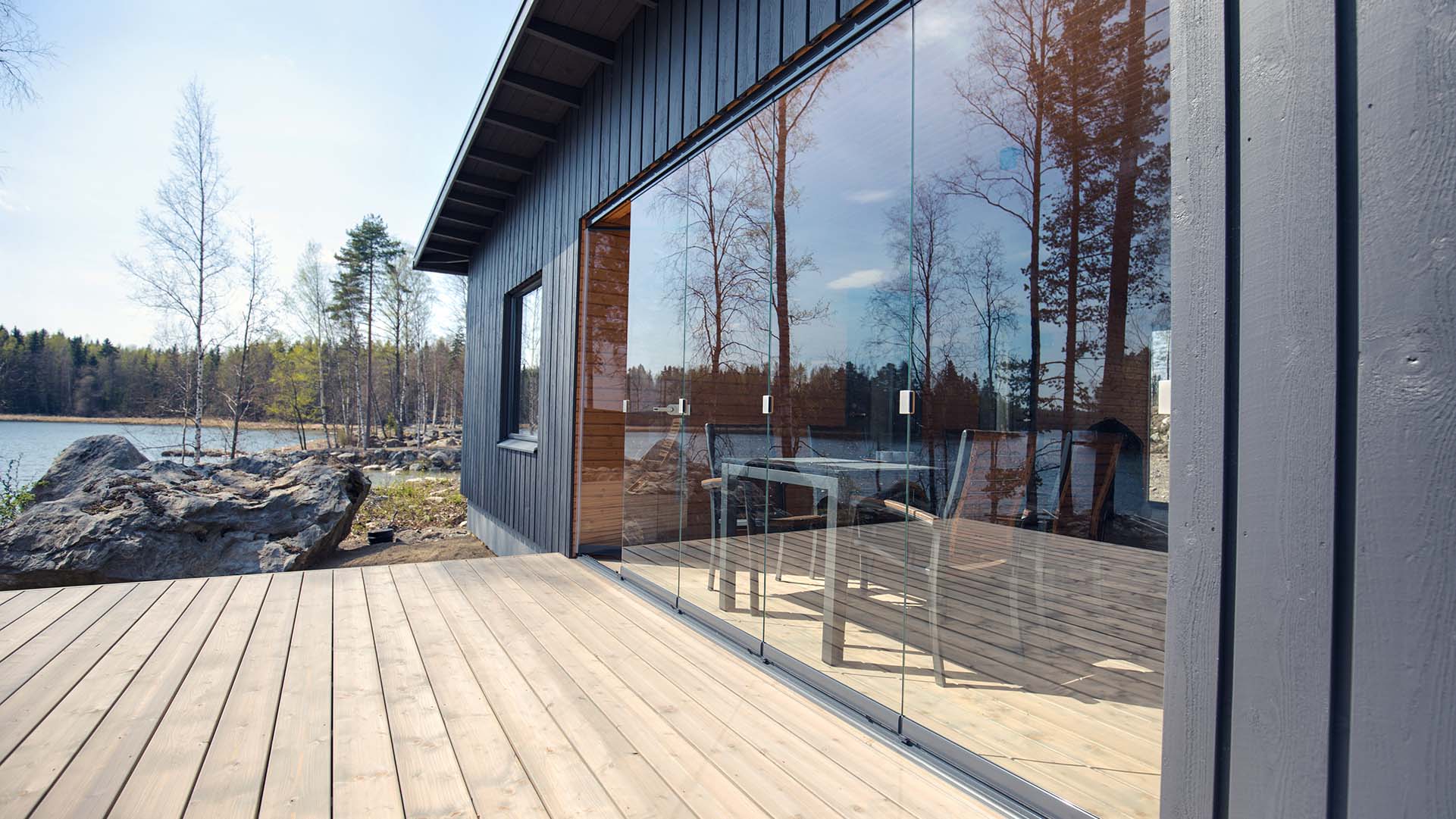 Appearance of the product
Naturally, when purchasing a glazing system, its appearance greatly influences the purchase decision and is often one of the most important selection criteria. Terrace glasses become a significant part of a building's facade, so how they look is an important factor.
Since all Lumon terrace glazing products are designed and manufactured in our own factories, they appeal to the Scandinavian taste. The glazing is also always designed according to the house and terrace, so it fits not only the facade of the building, but also the environment.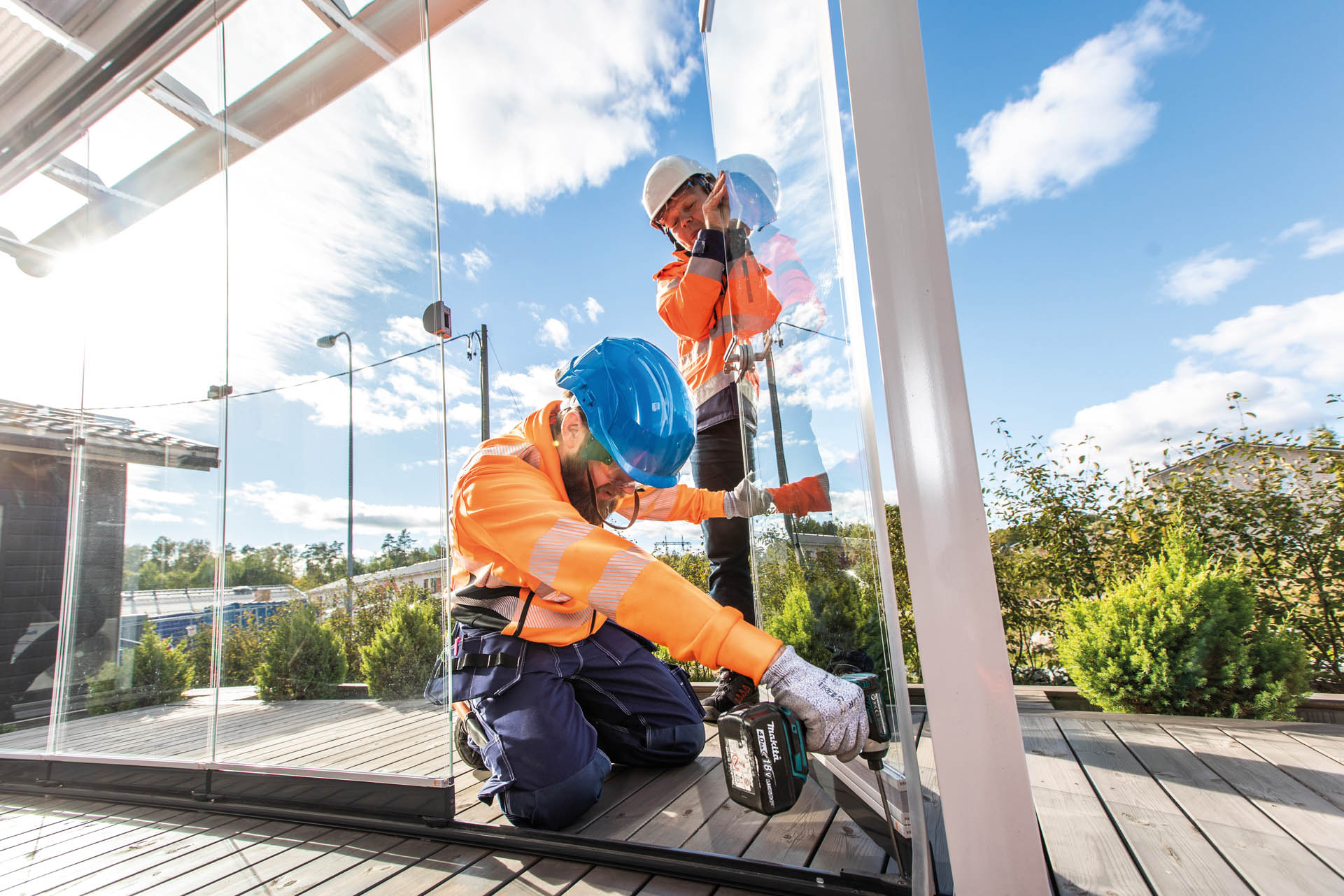 Service package
When purchasing terrace glazing, you should find out what is included in the price. Does the service package cover everything from design and permit procedures to installation, or does the installation have to be paid for separately?
A terrace glazing system should not be a frequent purchase, so it is important to take care of its maintenance. For this reason, we offer a comprehensive maintenance service for all glazing products.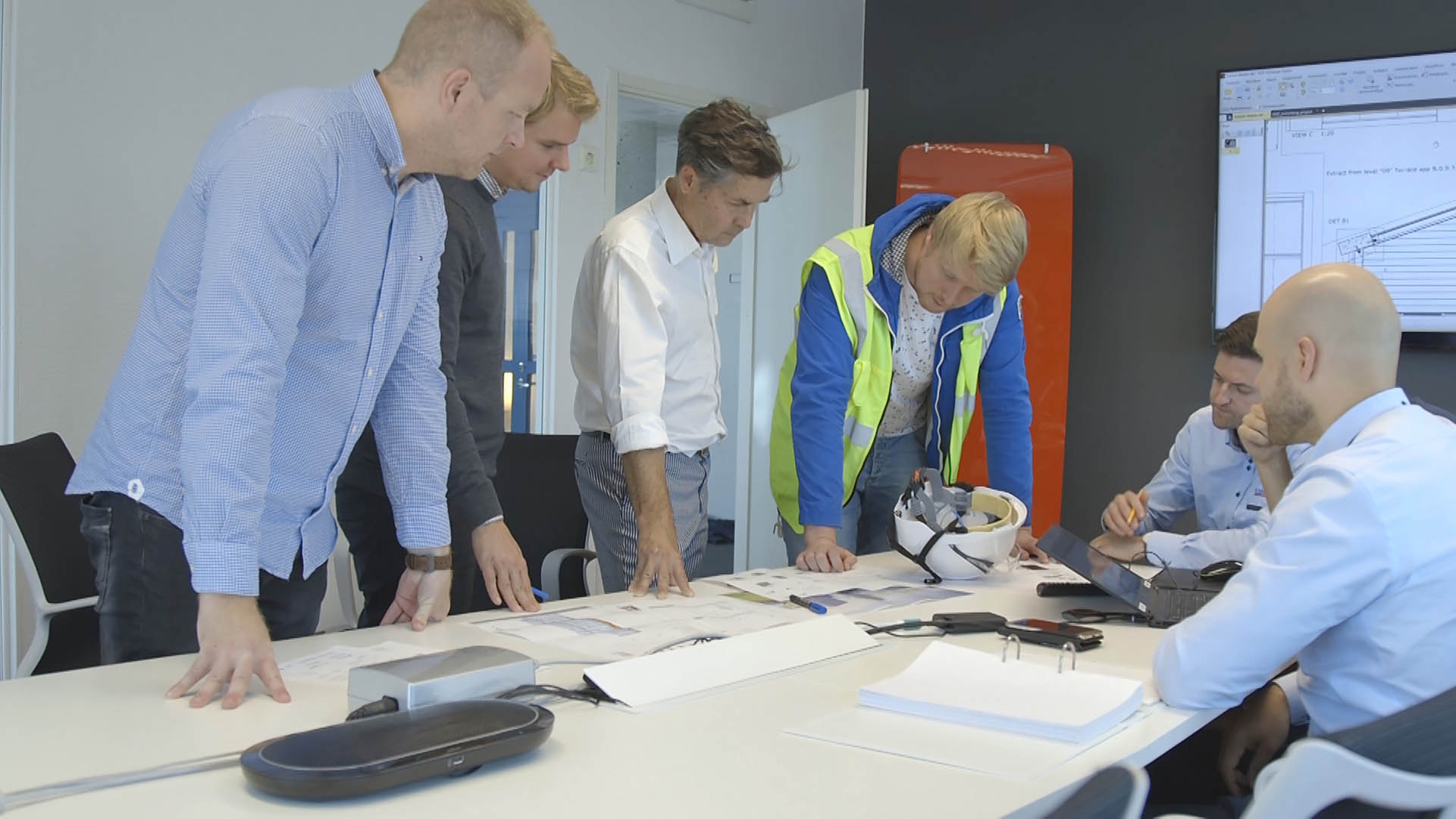 Permit requirements
Building control often requires permits to install glazing, and either a procedure permit or a building permit is needed. With an expert glass supplier like Lumon, you are not left alone with permit matters, as we offer help and advice with permit applications.
Ask for more information >>>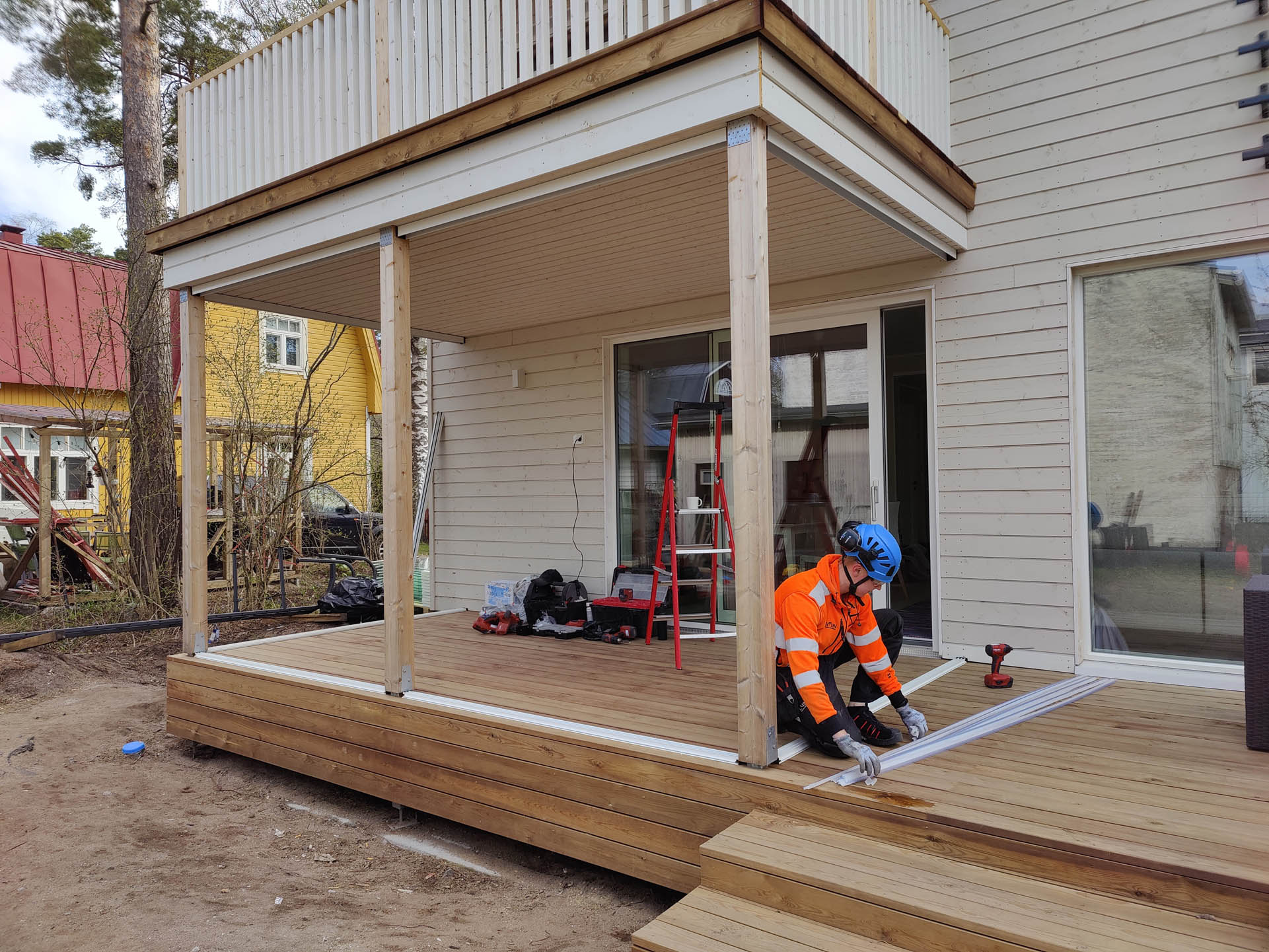 Installation
The installation work and its complexity make up their share of the total price of terrace glasses. When done by Lumon professionals, you know your terrace will become a space for you to enjoy for years to come.
A high-quality product is typically recognized by its long warranty period. This is also the case with glazing: Lumon always grants a 5-year warranty for its products. The installation itself also has a 2-year warranty.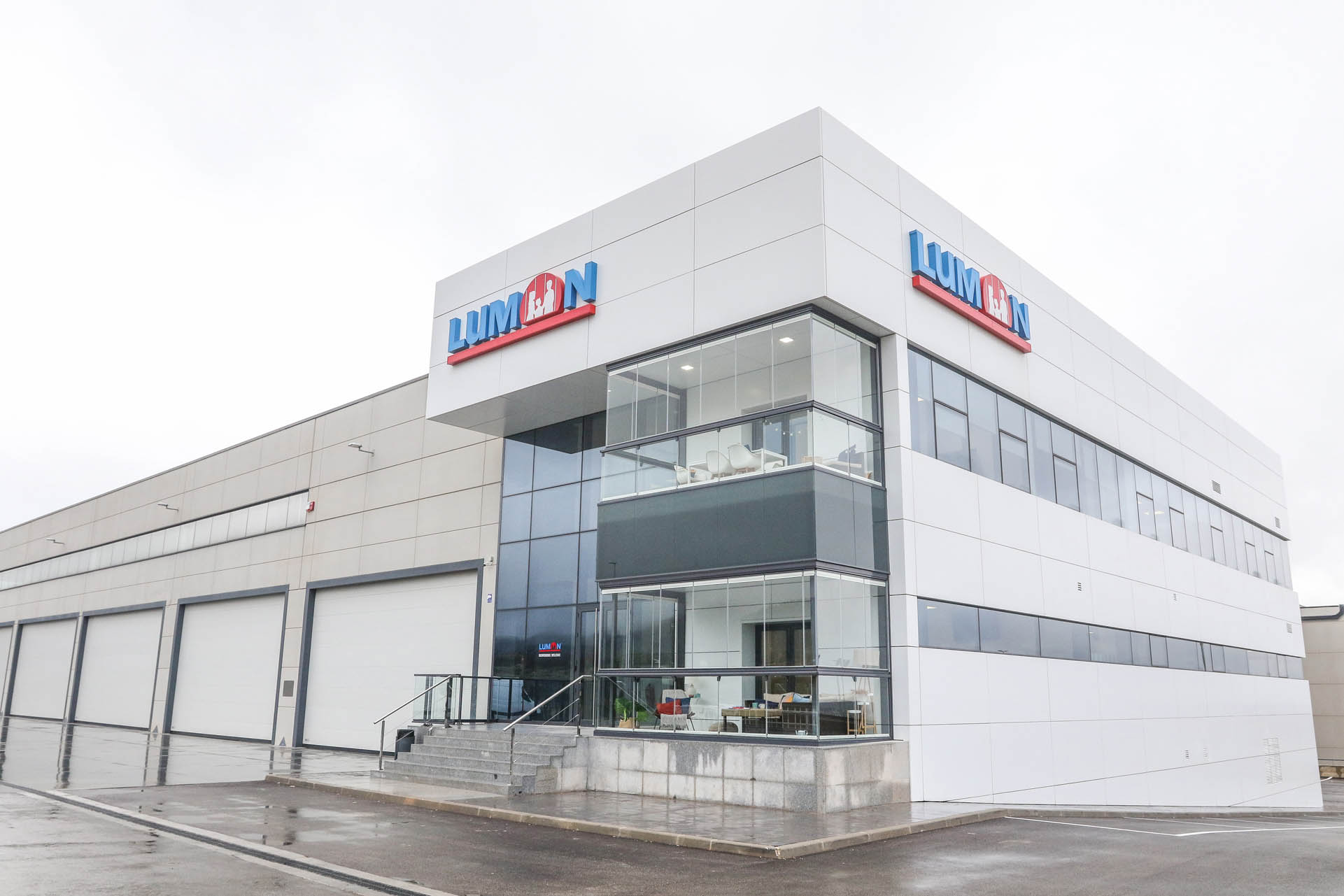 The company behind the glazing
When purchasing terrace glazing, pay attention to the supplier and manufacturer of the glazing, i.e. the company behind the glass and profiles. Check the company's background to ensure that the product quality, installation standards, product safety measures, and the company's ability to handle future maintenance requirements meet your expectations.
At Lumon, we have long and solid experience in glazing products and their production. Despite our rapid internationalisation, our product development, sales, design, manufacturing, installation, and maintenance can still be found under the same roof. It is becoming increasingly uncommon for companies to maintain a sales-to-production chain without intermediaries.
You might be interested in these as well: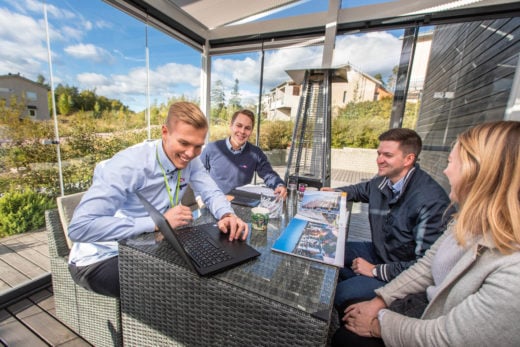 How to buy?
It's easy.
Learn more about how easy it really is.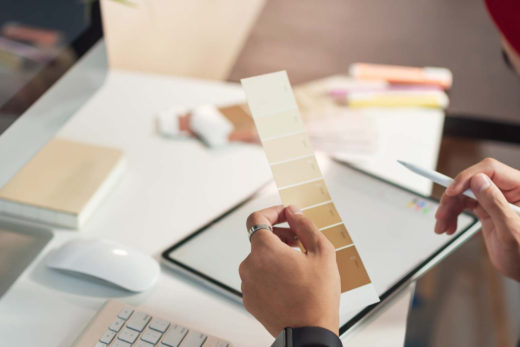 Start planning your terrace
Get inspired and see different kind of solutions for your balcony. See what others have done.