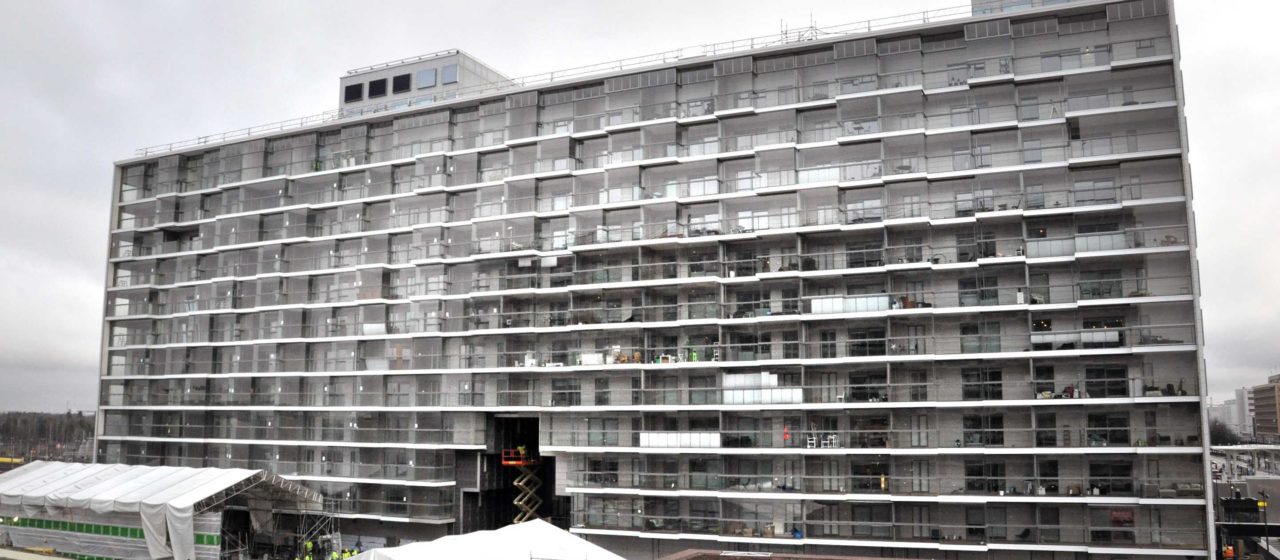 Construction site logistics and its relevance to project success
Major changes in the urban landscape, over the past five years, have set new requirements for construction site logistics. Nowadays, urbanisation allows for creating architecturally more unique building objects.
It also makes it possible to construct higher buildings and to select more variable facade solutions for them. Buildings are set increasingly closer to each other and they are often bordered by pavements and streets. Moreover, the yards of new residential buildings are frequently small and cramped, as a result of the desire to locate as many buildings on the same site as possible, to maximise the use of space. Furthermore, car parks must be fit for demanding applications that allow for locating parking lots of housing companies underneath their roof. The rooftops can then be used as common yard areas.
Paying attention to the urban landscape changes in our installation work calls for a seamless cooperation with our orderers and a preparation of a logistics plan together with them. An excellent logistics plan for the construction period ensures a smooth, safe and cost-efficient implementation, from the viewpoint of every party.
What are the requirements set by changes in the urban landscape to construction site logistics?
It is important for project success to reserve enough time for the planning of construction site logistics operations. We at Lumon know that tight schedules may increase work-related stress, unless we have reserved enough time for the planning. In our opinion, it is advisable to use more time at the planning phase, to make it possible to complete working phases in due time and in the right order.
Lumon makes sure that goods are brought directly to correct locations on a 'just in time' basis through working in a seamless cooperation with the orderer's responsible site managers. We have improved our product packaging system, to make it easy to lift the glass goods onto the balconies where their final storage place is. This will release site yard storage spaces for site purposes alone. The goods must have been ordered with correct measurements in advance. They have then been manufactured and delivered to correct locations on the balconies. Finally, they will be installed by fitters who complete all duties from inside the balcony.
It may be challenging to ensure safe working conditions at all times, if our communication and the time used for the planning of logistics operations are inadequate. The completion of a construction project generally requires the use of locations, like yard and street areas, where construction work is presently underway on several phases and construction vehicles are moving into and out of the site. If these factors are not considered before site duties begin, they may put people at unnecessary risk of injuries, or cause damage to property.
Effective logistics arrangements may cut down many of the costs, for example rental fees caused by scaffoldings, street areas and lifting gear. The inadequate planning of logistics may typically result in additional work and delays in schedules. It is therefore best to reserve enough time for the planning of logistics operations. Locating goods in their correct locations, while the construction work is in progress, is one of the significant factors to guarantee that the goods remain intact and their moving does not cause additional costs. The first priority is, however, to enable end users, i.e. residents, to enjoy magnificent views through faultless Lumon glazing products from their own balconies.
Bringing Sunshine Indoors: Creative Ways to Brighten Up Your Home

When it comes to creating a welcoming and uplifting atmosphere in your home, nothing quite beats the warm, radiant glow of natural sunlight. Sunlight brightens your space and has numerous psychological benefits, including boosting mood, increasing productivity, and reducing stress.

Read more…

Inspiring Garden Makeover Ideas In 2023

As we step into the year 2023, the world of garden makeovers is witnessing exciting new garden trends and innovative ideas that promise to redefine outdoor living spaces. A well-designed garden can be a retreat from the hustle and bustle of daily life, providing a serene and visually appealing environment for relaxation, entertainment, and enjoyment.

Read more…

How Are Glass Verandas Installed?

A glass veranda is a stylish and functional addition to any home, providing an elegant outdoor living space that can be enjoyed year-round. Whether you want to create a sheltered spot for relaxation, dining or to enjoy the sun and the view of your garden, a glass veranda can enhance your outdoor living experience.

Read more…