Glass Verandas
Enhance Your Space with Stylish Glass Verandas
A glass veranda is a large structure that creates a cosy outdoor living area protected from the outdoor elements. Glass verandas create a welcoming, versatile space year-round. You won't need to check the weather app before stepping outside anymore — you can spend time outdoors in rain or shine.
By adding a glass veranda to your space, you're benefiting from the peaceful feeling of being outdoors while maintaining the protection you have indoors.
Just as weeks are made of days, life is made of moments. By enjoying everyday moments, you can make your life special. You can sit with a cup of coffee at the end of a busy day, serve dinner covered by terrace glazing on a normal Monday, or unwind with your favourite music on your terrace. Bring a touch of happiness into your everyday life!
We want your terrace to become your new favourite place where you can enjoy the precious moments of life all year round.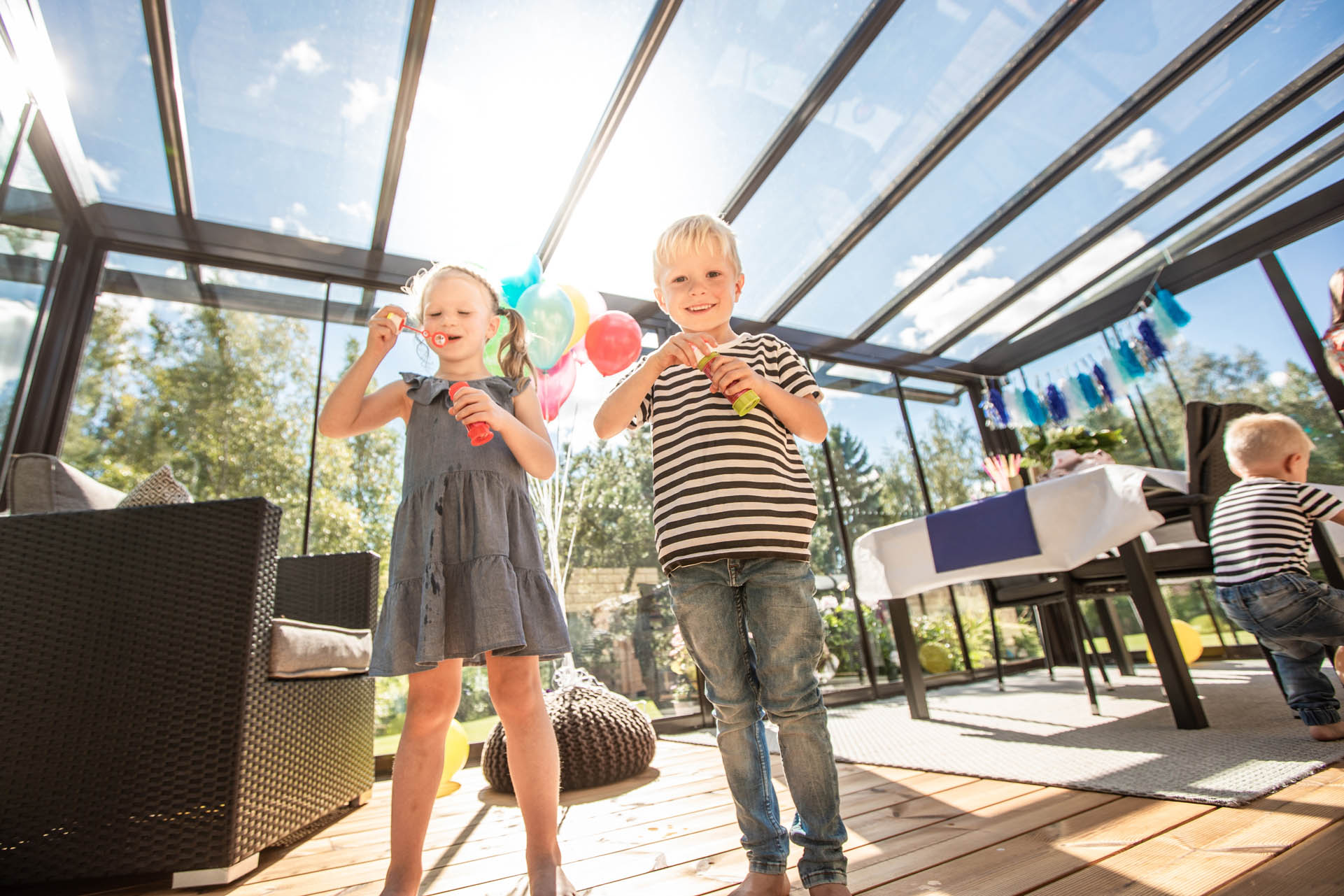 Key Features of Lumon's Glass Verandas
Our glass verandas are high-quality, carefully designed structures with luxury features that stand out from your run-of-the-mill veranda. With a Lumon glass veranda, you get:
Durable framework to withstand weather and natural wear and tear
Tempered glass for safety and thermal resistance
Customisable designs and unique features that we tailor to your vision
Glass verandas include patio roofs to enjoy your garden patio area year-round. While similar structures like patio awnings can sustain damage in bad weather, our glass and aluminium verandas are much more stable.
Our materials will withstand various weather conditions, making our glass verandas the most reliable protection for you, your family, and your patio.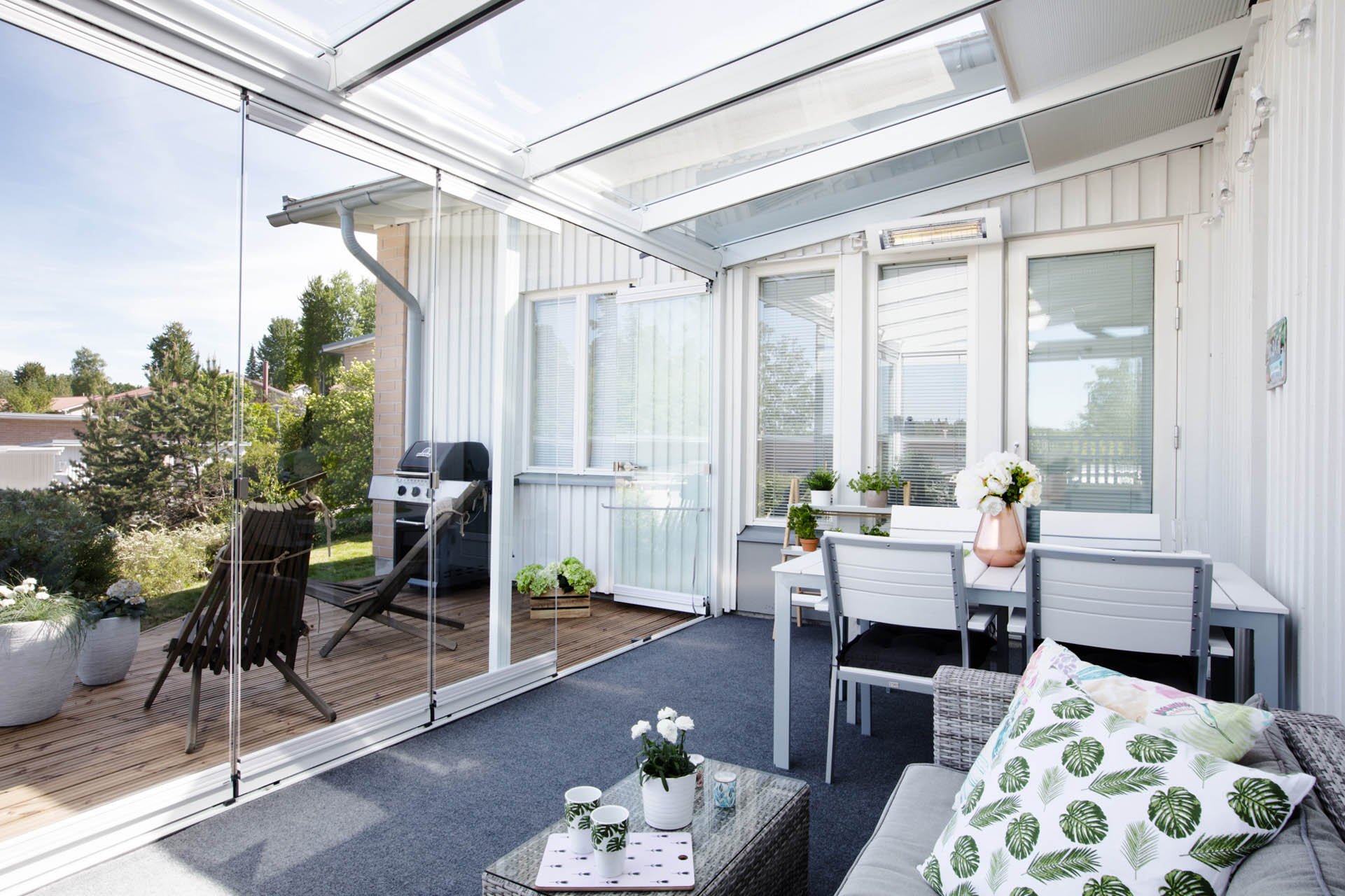 Lumon glass veranda is elegance, preservation and exceptional quality
Have you ever woken up with the urge to spend time in your garden but found it was too cold? Have you had an outdoor party ruined due to rain?
With Lumon's glass verandas, you wouldn't have to schedule your outdoor living around the weather ever again. You can garden while it storms or have a get-together even with a surprise rain shower.
Not only does this extend terrace season, but it also increases the value of your entire property. A glass veranda is an aesthetically pleasing, functional structure that takes your backyard to the next level.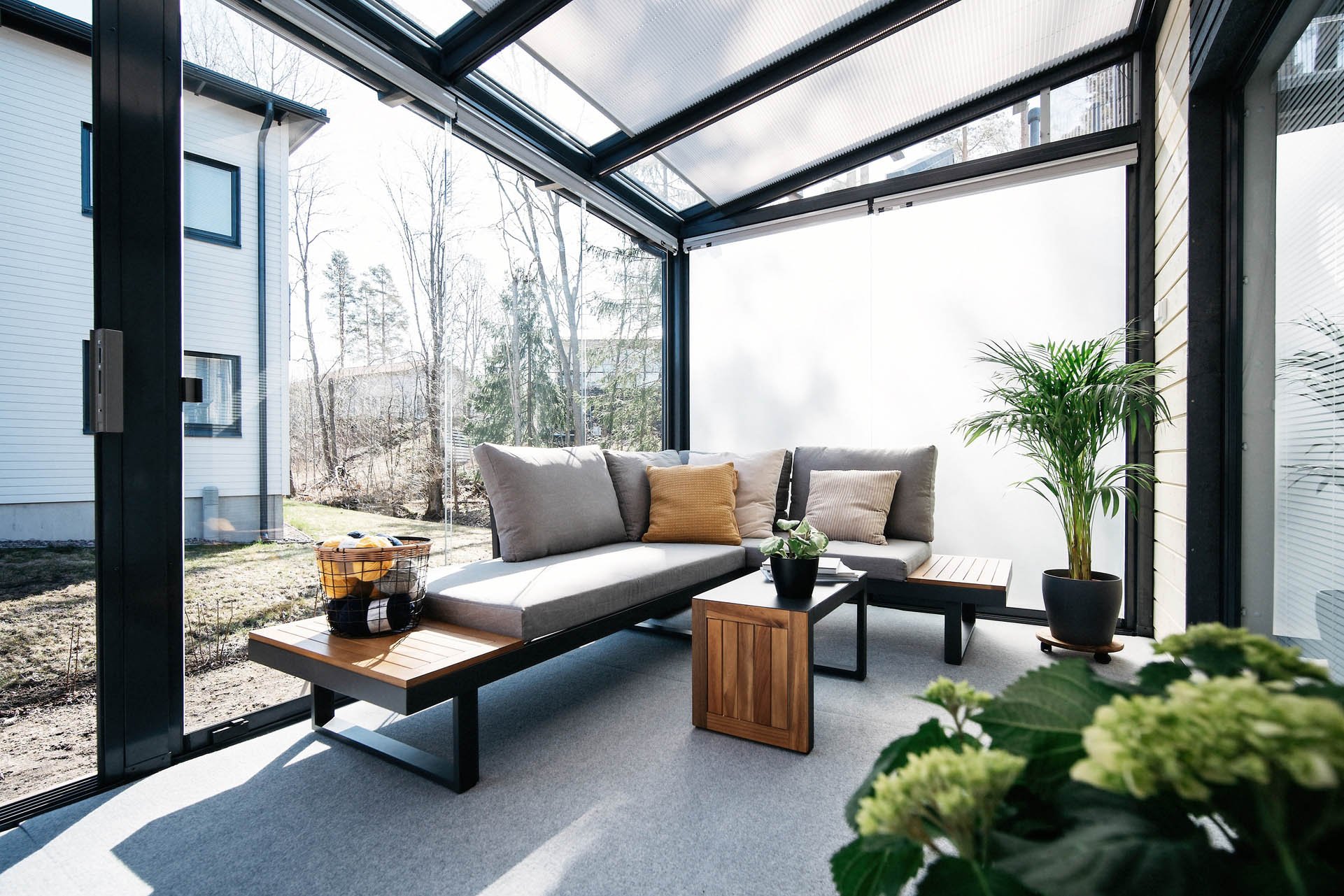 More benefits of our Glass Verandas
Even when it is warm enough to spend time outdoors, you usually have to worry about the harsh sun damaging your skin and patio furniture. A glass veranda with a built-in roof protects your furniture and guests from harmful UV rays, while our frameless design still offers sweeping, unobstructed views.
With the protective cover on your glass veranda, you'll spend less on your patio and backyard furniture repair costs. Bugs and harsh weather conditions won't affect your outdoor space or your ability to spend time in it. 
Glass verandas are also a great option for families with young children. Your little ones can enjoy the outdoors while still being in an enclosed, safe space.
Let your imagination fly, and start planning your glass veranda here.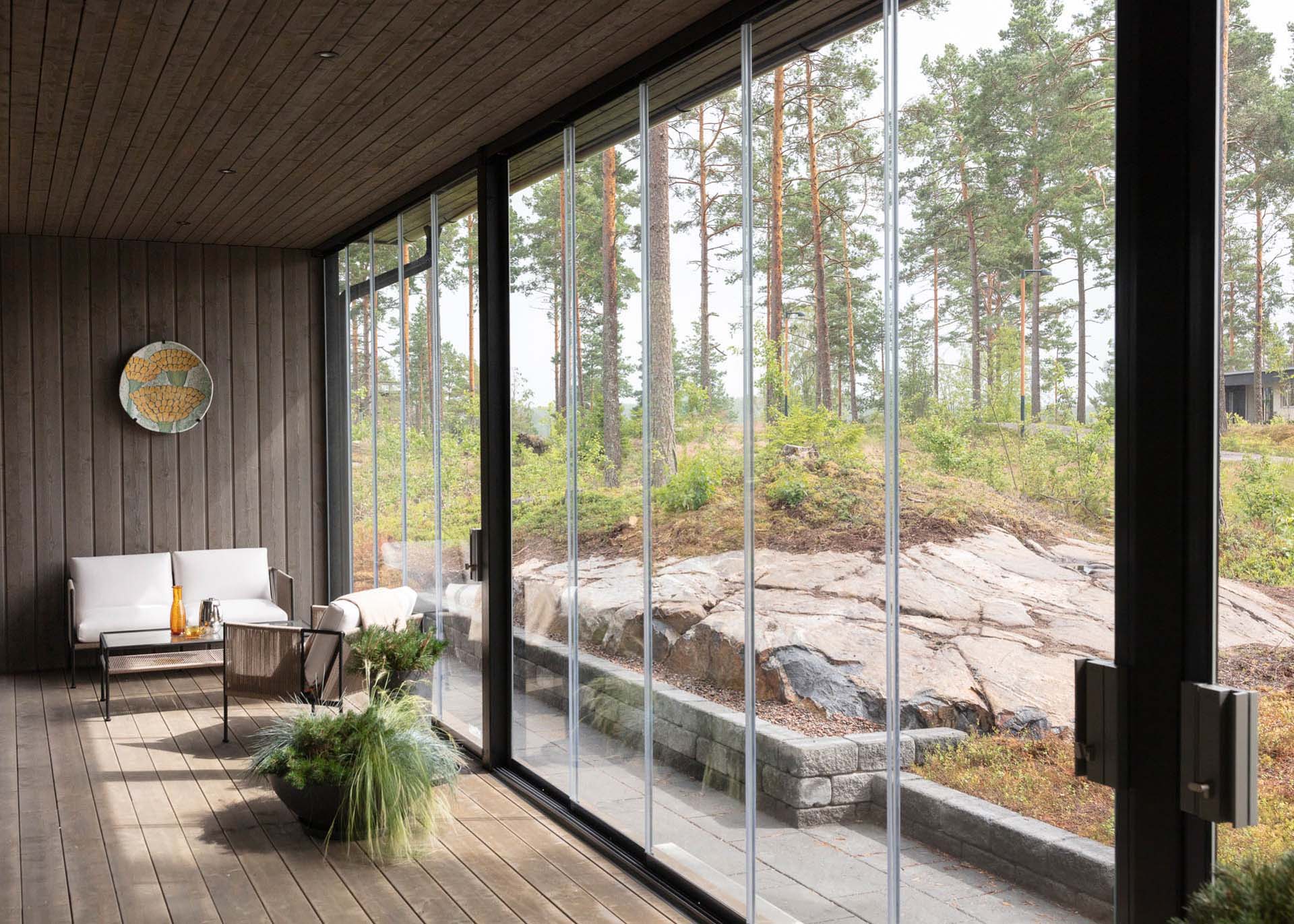 Buying a Glass Veranda? – This is how it works.
Buying a Lumon glass canopy is hassle-free and easy. The easiest way to make your terrace dream come true is to contact a Lumon expert who knows the inside-out glazing product. If necessary, you can also ask them about foundation work and other issues related to the construction of the terrace.

Learn more about how to buy a Lumon glass veranda.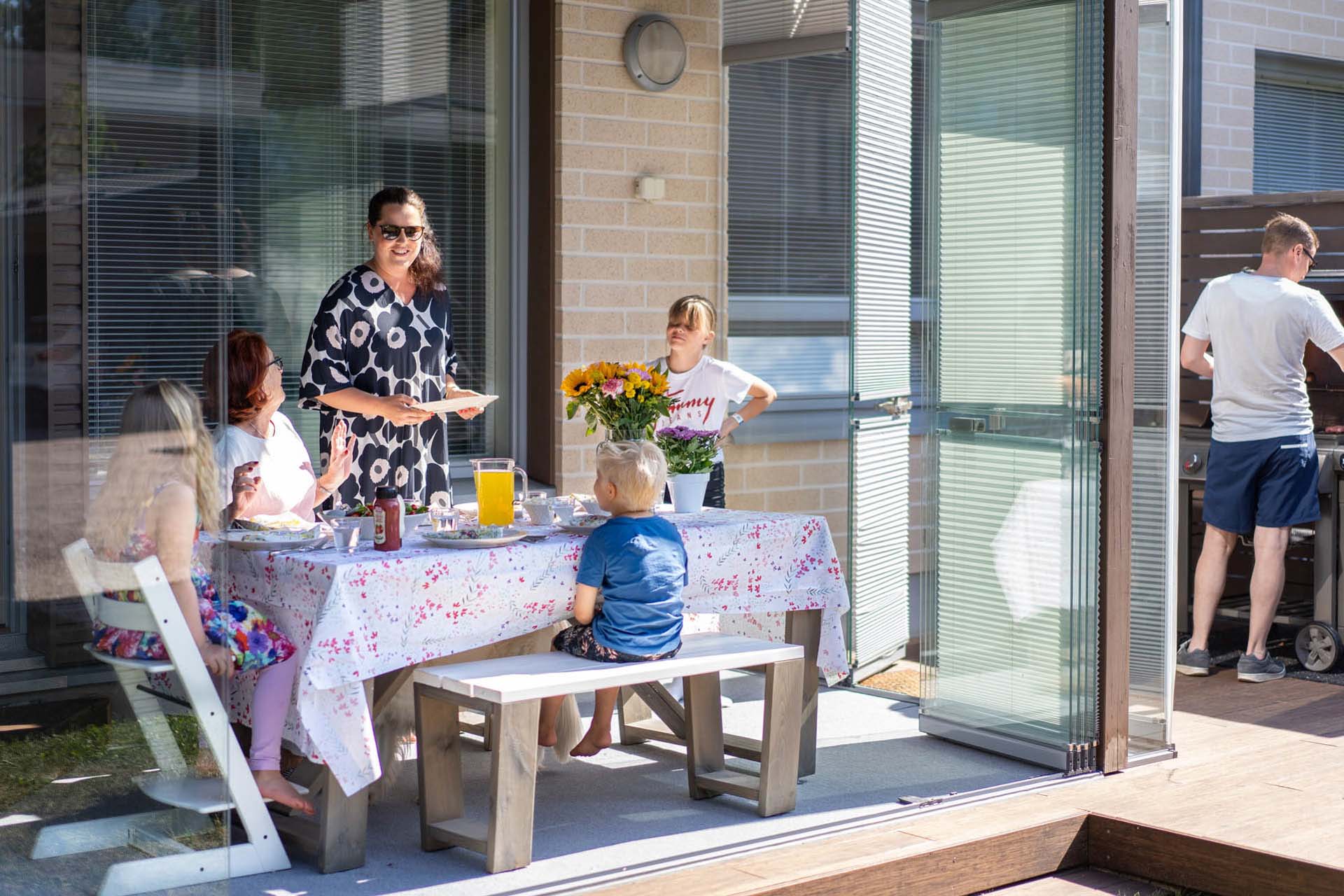 What makes up the price of a Lumon Glass Veranda system?
The Lumon glass veranda is a high-quality, custom-made product that is always designed specifically for your own unique terrace. The price of the Lumon glass veranda is based on its high-quality materials and our service package, from design and manufacturing to installation.

The price of a glass veranda system can vary greatly depending on several factors such as the terrace, size, glazing type, space height, colour options, materials used, selected accessories, installation complexity, wind load, structural stability of the roof, flooring, and project location, to name a few.

Three Steps to Bring Your Outdoor Space to Life with Lumon
When you commit to Lumon's services, we commit to you — we guarantee professional, friendly service from start to finish.
The process begins with a consultation when you share your vision with us. We create a plan to make your patio dreams come true while offering a cost estimate according to the specifications of your project.
Next, we go over your design in more detail and customise your glass veranda to your size, material, and aesthetic preferences.
Once we finalise the materials and design, it's time to install!
But we don't stop there. Lumon offers after-installation support to ensure you're happy with our product.
Get Started With A Free Quote For Your Next Project
At Lumon, we make adding garden spaces to your property easy. We offer competitive pricing, completely customisable designs, and efficient installation.
Contact us
"*" indicates required fields