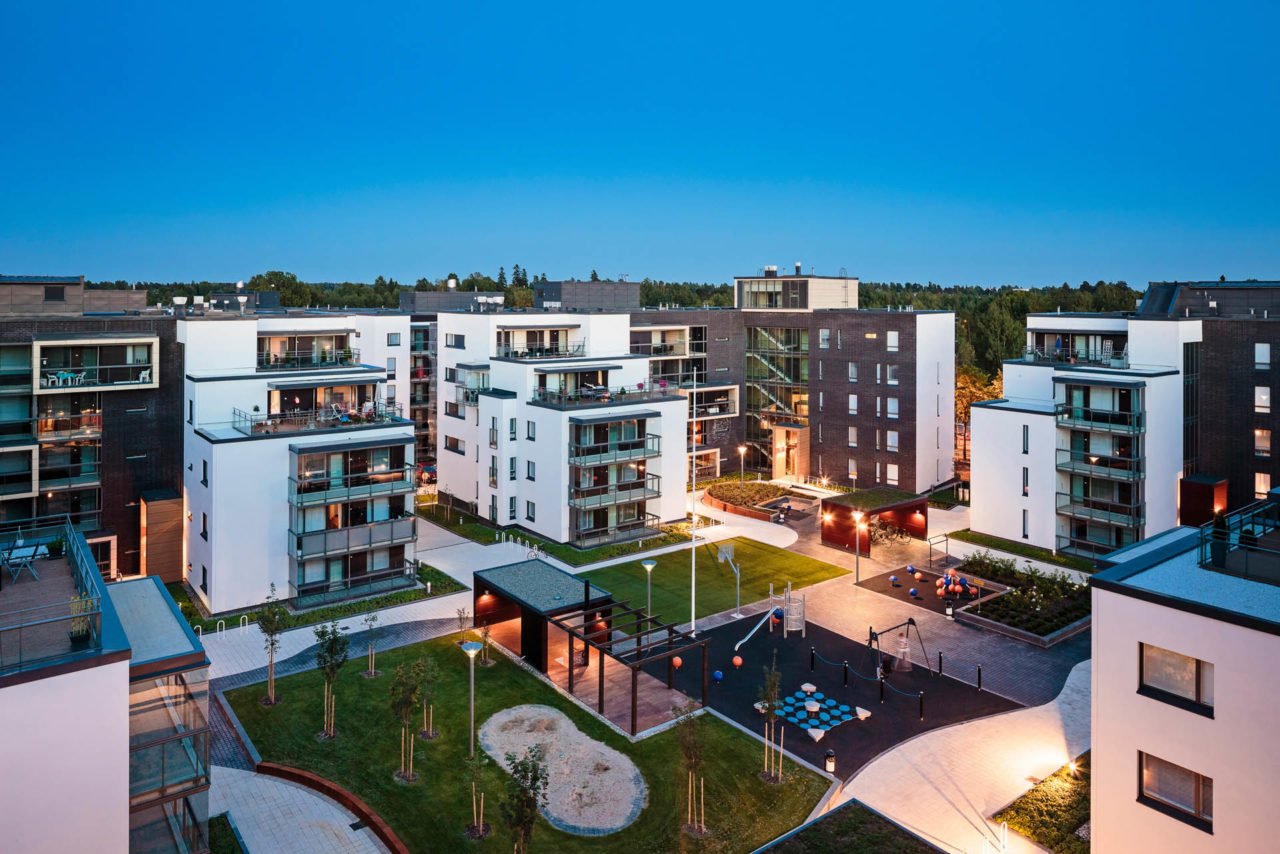 Social responsibility
Responsible and trustworthy employer
We want to be a responsible and trustworthy employer for our employees. We believe that the talent development of our staff, focus in working safety, ensuring employee satisfaction, and support of employee wellbeing create the basis for sustainability and providing the best service for our customers. We want to also support students in the beginning phases of their careers, offering internship and thesis opportunities. Our goal is to have one trainee or intern per every ten new hire.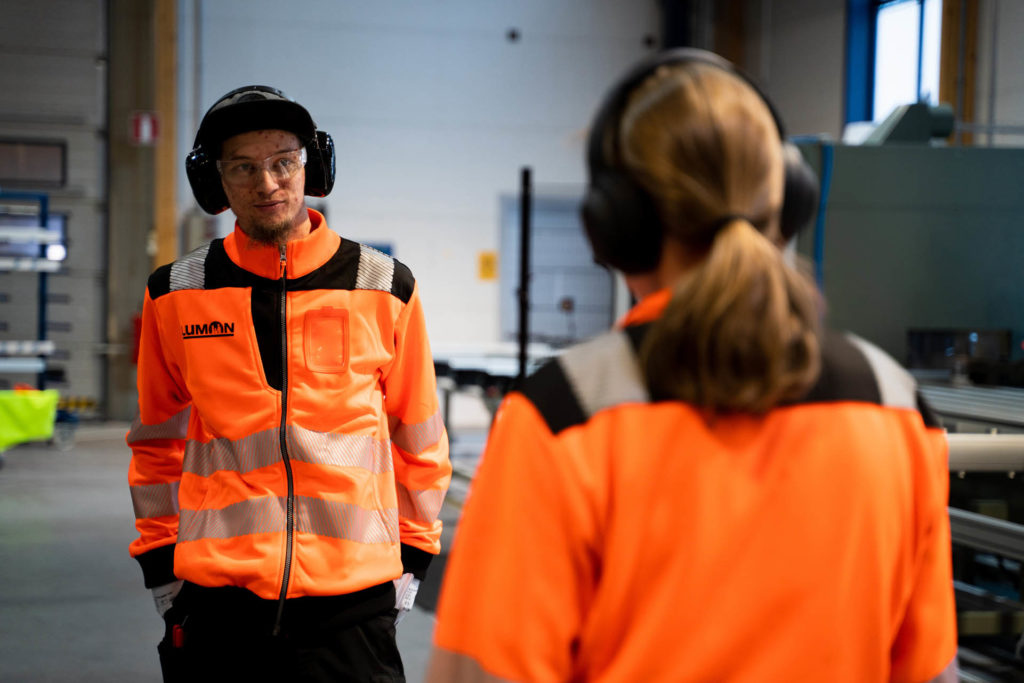 Knowledgeable staff
The cornerstone for our knowledgeable staff is providing a thorough onboarding. Our managers plan for the onboarding of new employees already in the recruitment phase, according to our onboarding model. The success of onboarding is monitored through consistent feedback discussions.

We provide versatile training to support personal and professional growth. Trainings include internships, various certifications, product training, and language training. One of the topics of discussion in yearly one-on-one meetings with supervisors, the employee and supervisor think about development and training needs and desires, with HR supporting these decisions when needed. Skill development can also come in the form of learning at work, mentoring a new employee, or voluntary self-education.

In 2020 Delficon consulting company made a company culture survey in Lumon, the results of which helped us to improve internal communication as well as internal processes. At the end of 2021 an internal employer image survey was made in Lumon, which helped us to crystallize our employer value promise to "the Best is achieved by learning together"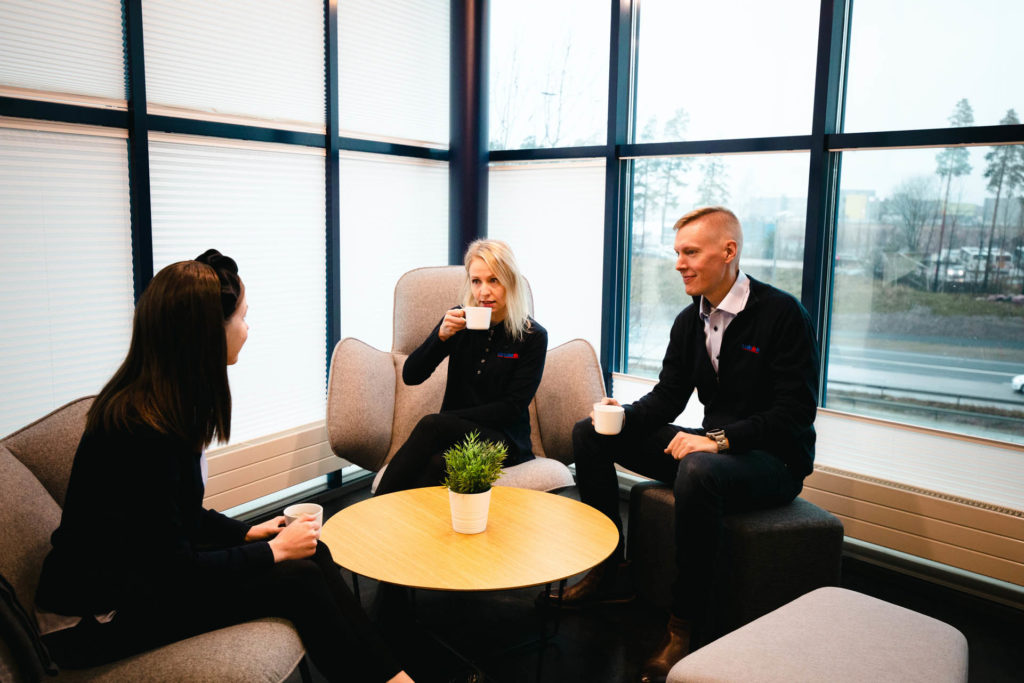 Employee Code of Conduct
As a socially responsible company, we take seriously our role in creating positive change in the world around us. That's why we have in use a comprehensive employee code of conduct that outlines our commitment to social sustainability.
Our code of conduct sets out the standards that all of our employees are expected to uphold in their work. This includes promoting diversity, respecting human rights, and avoiding any form of discrimination or harassment. We also expect our employees to act with integrity, honesty, and transparency in all of their dealings, both with our customers and with each other.

By adhering to our employee code of conduct, we are not only fulfilling our social responsibilities as a company, but we are also creating a positive work environment that fosters collaboration, innovation, and creativity. We believe that by working together, we can make a real difference in the world and create a more sustainable future for all.
Development of working safety
Lumon has an audited ISO45001 Health and Safety development system and we have globally a comprehensive work safety development program. Our goal is that every Lumon employee comes to work healthy, and can return home feeling the same way. We take preventative measures in safety by conducting safety walks on work sites and production facilities, by keeping safety on the agenda of team meetings, and by learning from past incidents.
Safety observations are a part of our everyday responsibility, as well as the reporting of close-call situations. The safety committee consider the development of preventative measures on a monthly basis, and the results have for example included a change in the type of safety glasses used. The equal treatment of employees and well as ensuring a healthy work environment are a part of the safety efforts at Lumon. Lumon has a committed goal of accident frequency rate below 15.
What are we doing to ensure safety remains a top priority?
Health and safety training as a part of onboarding processes
Safety observation rounds conducted on a regular basis
Monitoring of accidents on a country-basis and global basis
Corrective measures meetings after the occurrence of an incident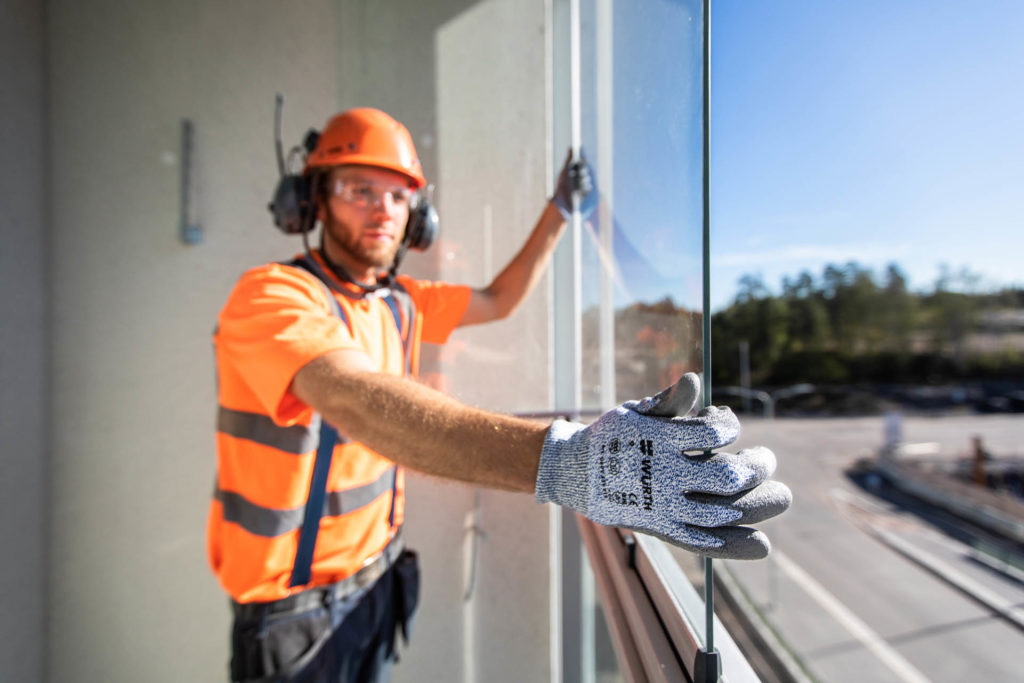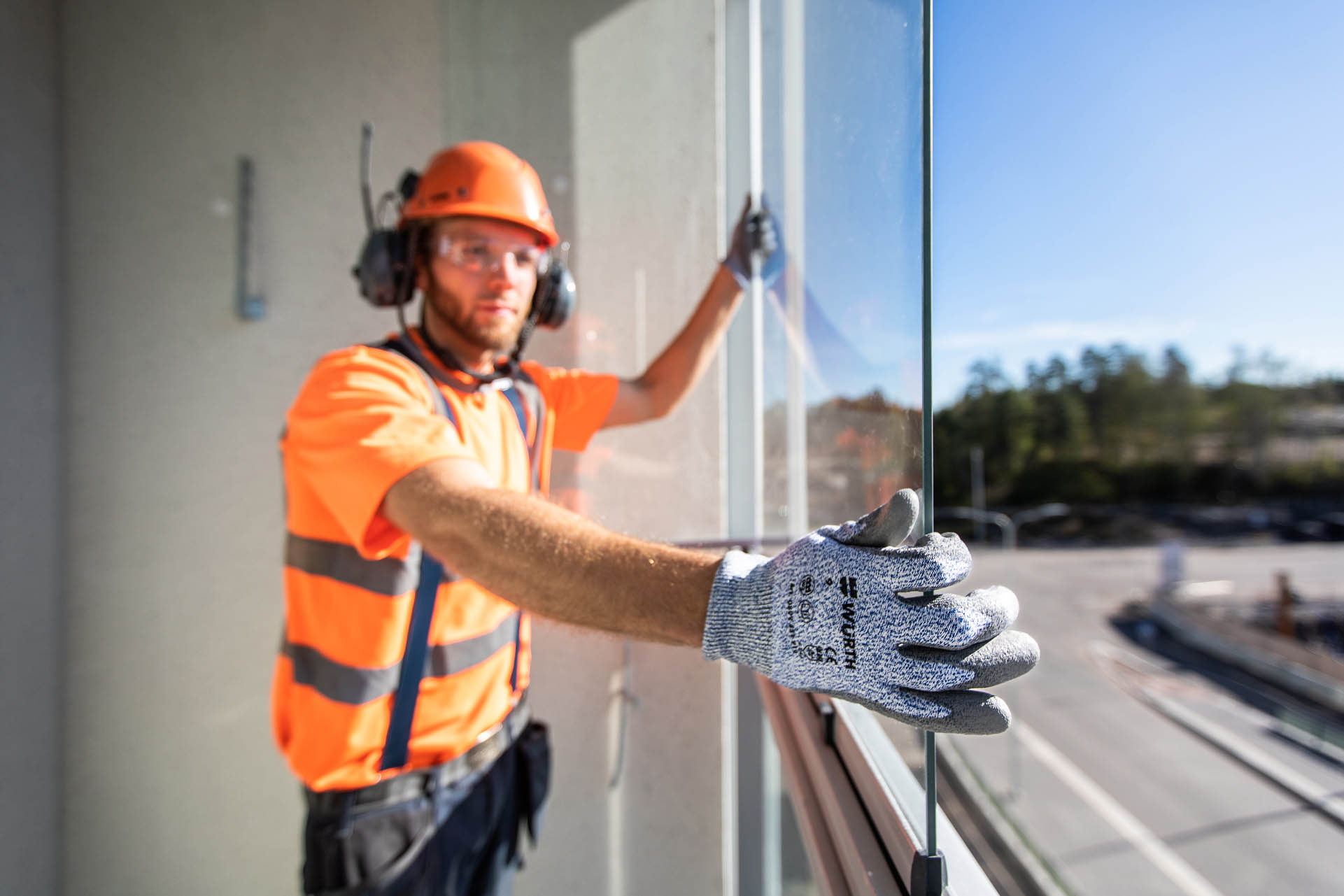 Health and well-being at work
Lumon is measuring employee satisfaction and makes employee surveys three times per year globally and the response rate is over 70% of all employees. Our eNPS was 61 in 2022, which is one of the very best in the industry. We support the health and well-being of our employees by providing employee healthcare benefits. Preliminary care efforts include collaboration with employee healthcare partners to conduct training sessions on ergonomics and other related healthcare-workshops.
Equality at Lumon
At Lumon, we believe that a workplace where employees are treated equally is crucial for creating a positive and productive environment. To ensure this, we have developed an equality plan that addresses key issues such as salary and other terms of employment. This plan is an integral part of our occupational health and safety action program.

Our equality plan was developed in collaboration with our personnel representatives and includes a comprehensive report on the current state of equality in our workplace. This report examines the placement of women and men in different positions, the classification of women's and men's positions, salaries, and pay differences. Additionally, the plan outlines specific measures that will be implemented to promote equality and achieve wage equality. It also includes an assessment of the implementation of previous measures and their results.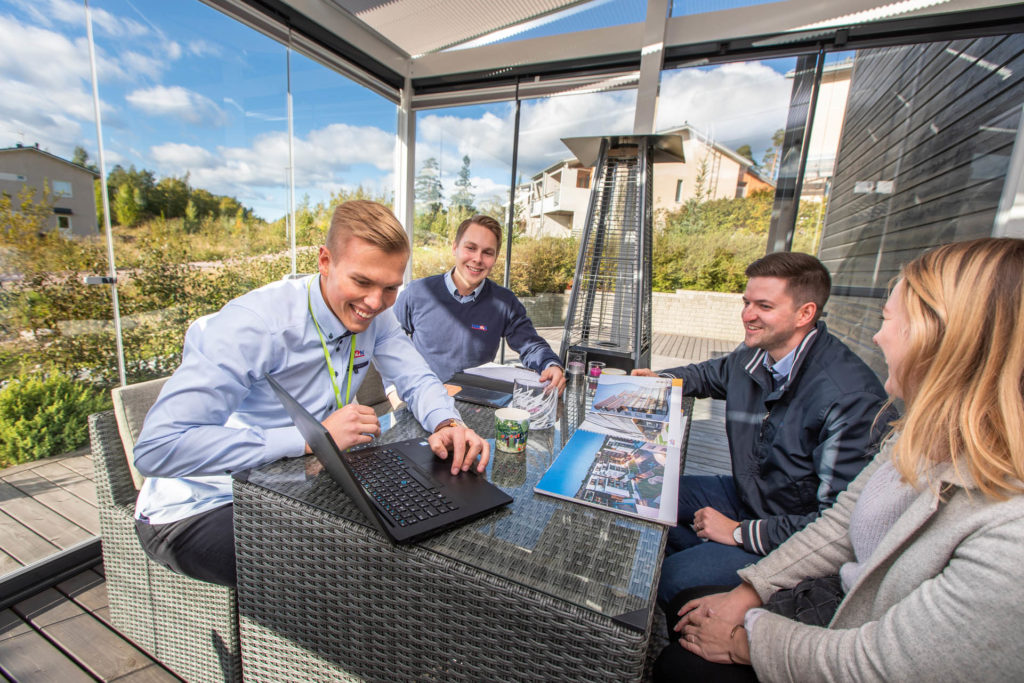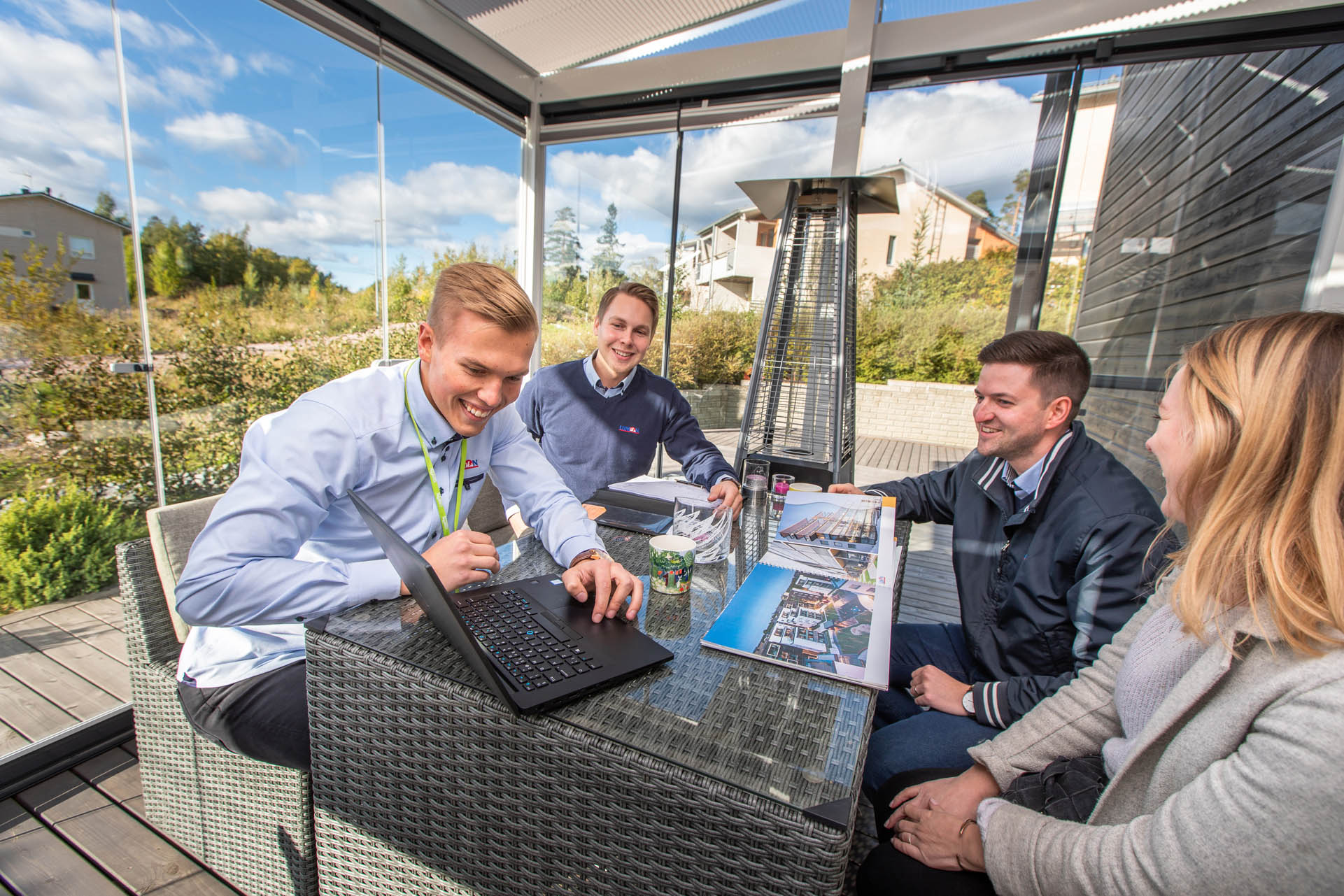 Our staff representatives have been actively involved in the development and updating of the equality plan, and we make sure to keep all staff informed about any changes or updates.

Furthermore, Lumon has an overall equality plan that aims to create non-discriminatory working conditions and workplaces. We are committed to promoting equality at every level of our organization, and we believe that by doing so, we can create a workplace that is truly inclusive and welcoming to all.
Value Chain
As a company committed to ethical and responsible business practices, we require all our resellers and suppliers to adhere to a code of conduct that outlines the behavior and practices we expect from those who do business with us.
Our code of conduct includes the following requirements:
Good governance
All distributors and manufacturers must abide good corporate governance practices to ensure complience with any applicable legislation and the requiements of Lumon Code of Conduct for distributors and manufacturers.
Ethical business practices
All distributors and manufacturers must act ethically and with integrity in all their business dealings. This includes honesty, fairness, and respect for others.
Compliance with Laws
All distributors and manufacturers must comply with all applicable laws and regulations, including those related to labor, environmental, and anti-corruption.
Labor Practices
All distributors and manufacturers must respect the rights of their employees, ensure safe working conditions, and prohibit forced labor or child labor.
Occupational health and safety practices
A healthy and safe working environment is provided for employees in accordance with international standards and national laws. Any accommodation provided the employer shall always meet the basic needs of employees, including but not limited to those of safety and cleanliness. Health and safety information and training is provided to employees, as appropriate.
Sustainability
All distributors and manufacturers must minimize the environmental impact of their operations, including reducing waste and emissions.
Anti-bribery and corruption
All distributors and manufacturers must prohibit bribery, corruption, and any other unethical or illegal practices. The distributors and manufacturers shall have reasonably adequate policies and procedures in place to monitor bribery and corruption risks.
Confidentiality
All resellers and suppliers must protect any confidential information they receive from us or our customers, including respect of the privacy and the personal information the customers have provided in the value chain.
Respecting intellectual property rights
The Distributor/Manufacturer respects any laws, regulations and international treaties that govern and protect intellectual property rights such as copyright, patents, trademarks, and confidential information of others, among other. Distributor/Manufacturer undertakes not to infringe any third-party intellectual property rights or confidential information while providing or developing its services and products.
We require all our resellers and suppliers to acknowledge and adhere to this code of conduct. Non-compliance may result in termination of our business relationship.

Lumon is making regular customer satisfaction surveys amongst our business-to-business customers and each consumer customer has an opportunity to respond to an automatic survey after the installation. Our customer satisfaction index NPS was 75 in 2022, which is one of the very best in our industry.