The Lumon balcony glass system provides an additional buffer zone between the exterior and interior of the home. This space is warmer than outside air almost without exception and, for this reason, reduces the overall heat losses and energy costs in the building.
Balcony glazing has various benefits for both residents and the building itself. Balcony glazing increases heat savings and decreases cooling costs, protects furniture on the balcony, increases privacy, and its environmental footprint is offset as quickly as in 3 years and 4 months. The value of units and buildings is increased, while aesthetic architectural elements are preserved. Here is a quick snapshot of how Lumon contributes to saying nature and money!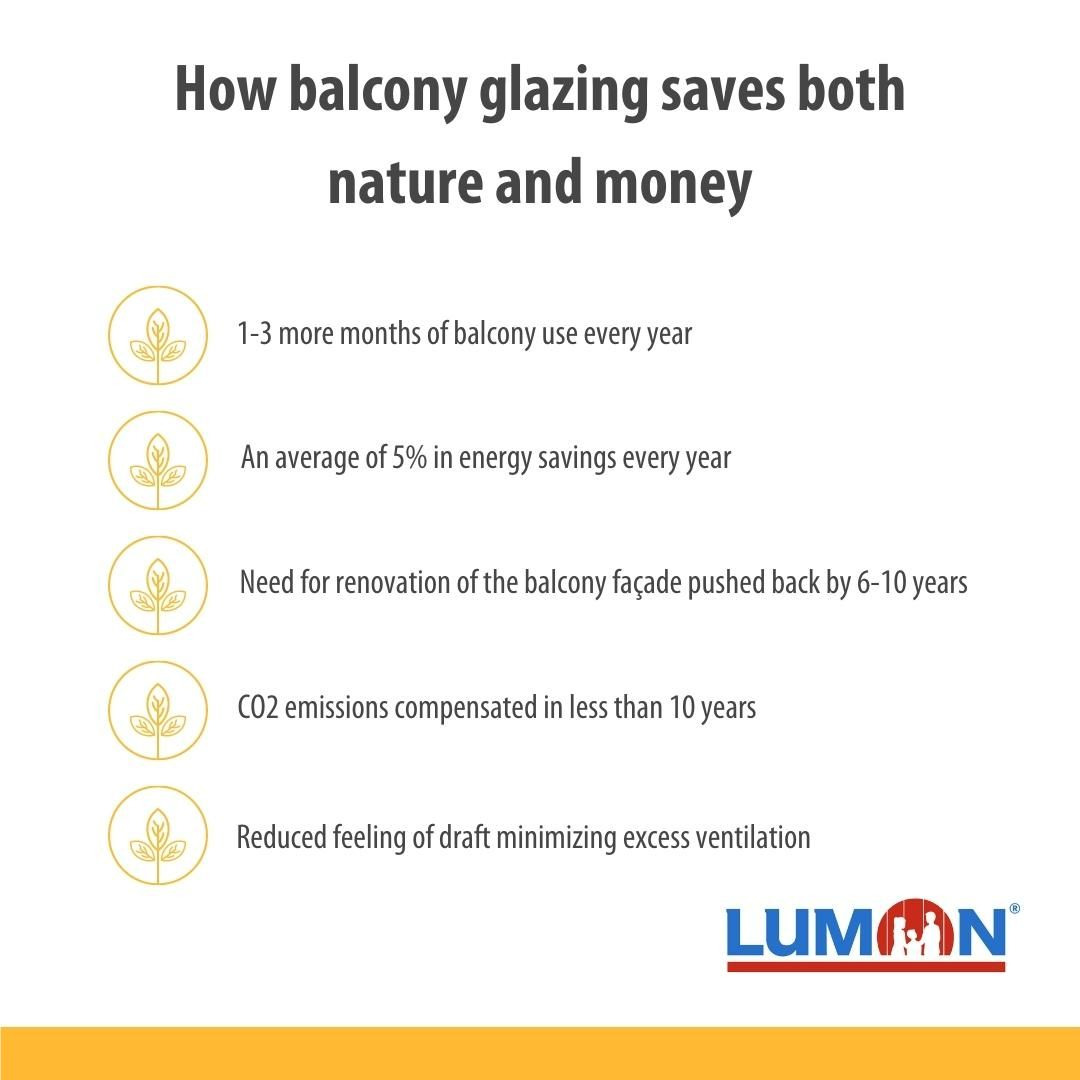 Interested to know more? Read along! 
Complicated calculations, clear principles
When it comes to balcony glazing, there are three major benefits: living comfort, durability, and energy savings. These elements all support each other in building a dynamic and sustainable space, but the latter – energy savings – is a bit harder to prove in practice.  But we had Dr Ted Kesik research Lumon balconies in Ontario to give us the exact energy-saving capabilities of Lumon glazing. Interested in know the results? You can download Dr Ted Kesik's energy modeling guidelines here.
The balconies on the south side of the building, located in open terrain, receive solar energy most efficiently. If the balcony is inset, i.e., it has a warm outer wall on three sides, the balcony has optimal conditions for maximizing glazing benefits. According to scientific studies at Tampere University of Technology, annual use of the balcony will be extended 1-2 months on average, and up to 3 months in these types of optimal situations.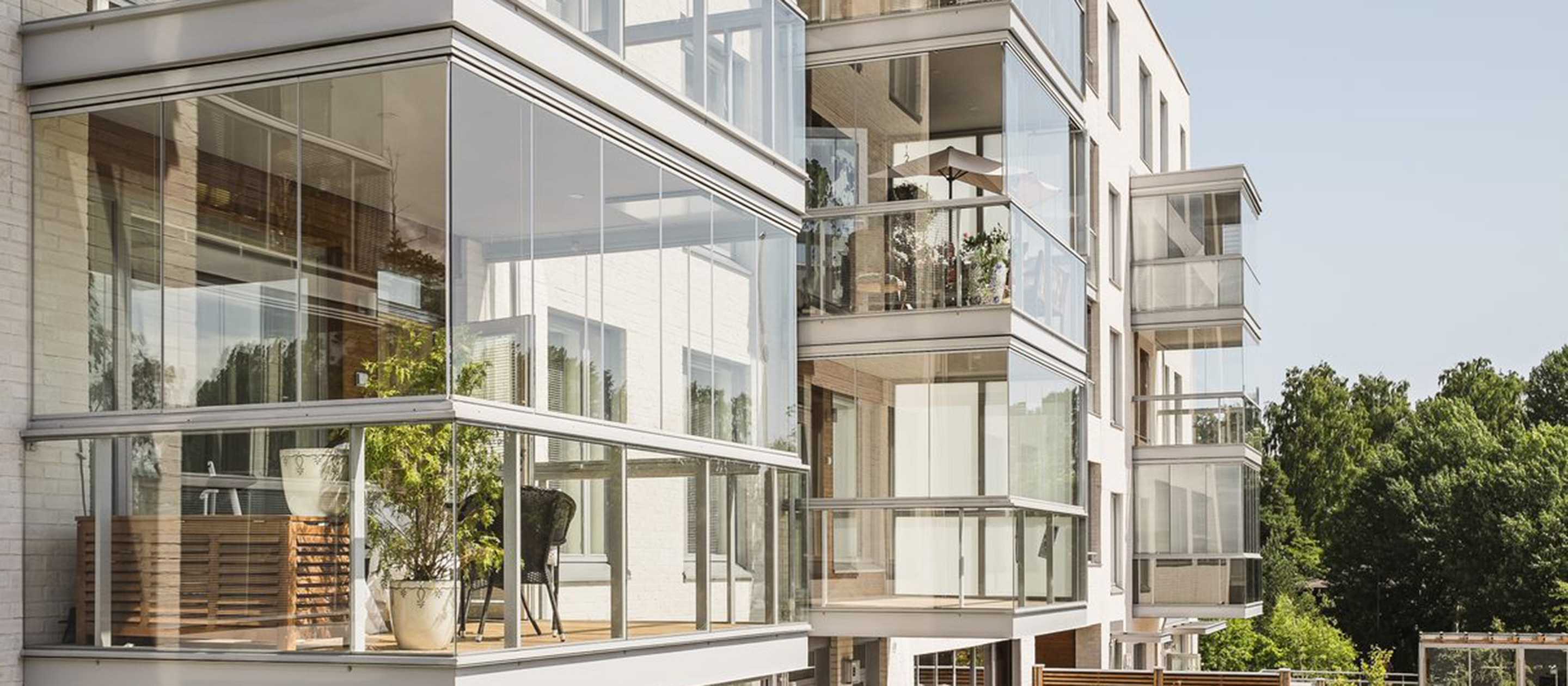 One of the benefits of glazing not taken into account in energy-saving calculations, is that especially in windy weather, the wind pressure on the balcony is reduced which also has a beneficial effect on energy costs. This is difficult to prove through calculations, as wind loads as well as wind patterns are extensively variable. Also, an additional advantage of balcony glazing is that on a sunny cool day, the space is warmed up by the stored energy of the sun, again reducing the heating cost of the apartment, while at the same time providing more usable space – more room for life.
In warmer climate countries, it is typically the cooling of an apartment that takes more energy than heating it up. In these types of situations, the balcony glazing system can be paired with integrated blinds to keep the heat in the room at optimal levels. Blinds help in keeping off the excess solar energy from the balcony and the attached apartment. Therefore, depending on your needs, the glazed balcony can be a heating or a cooling buffer.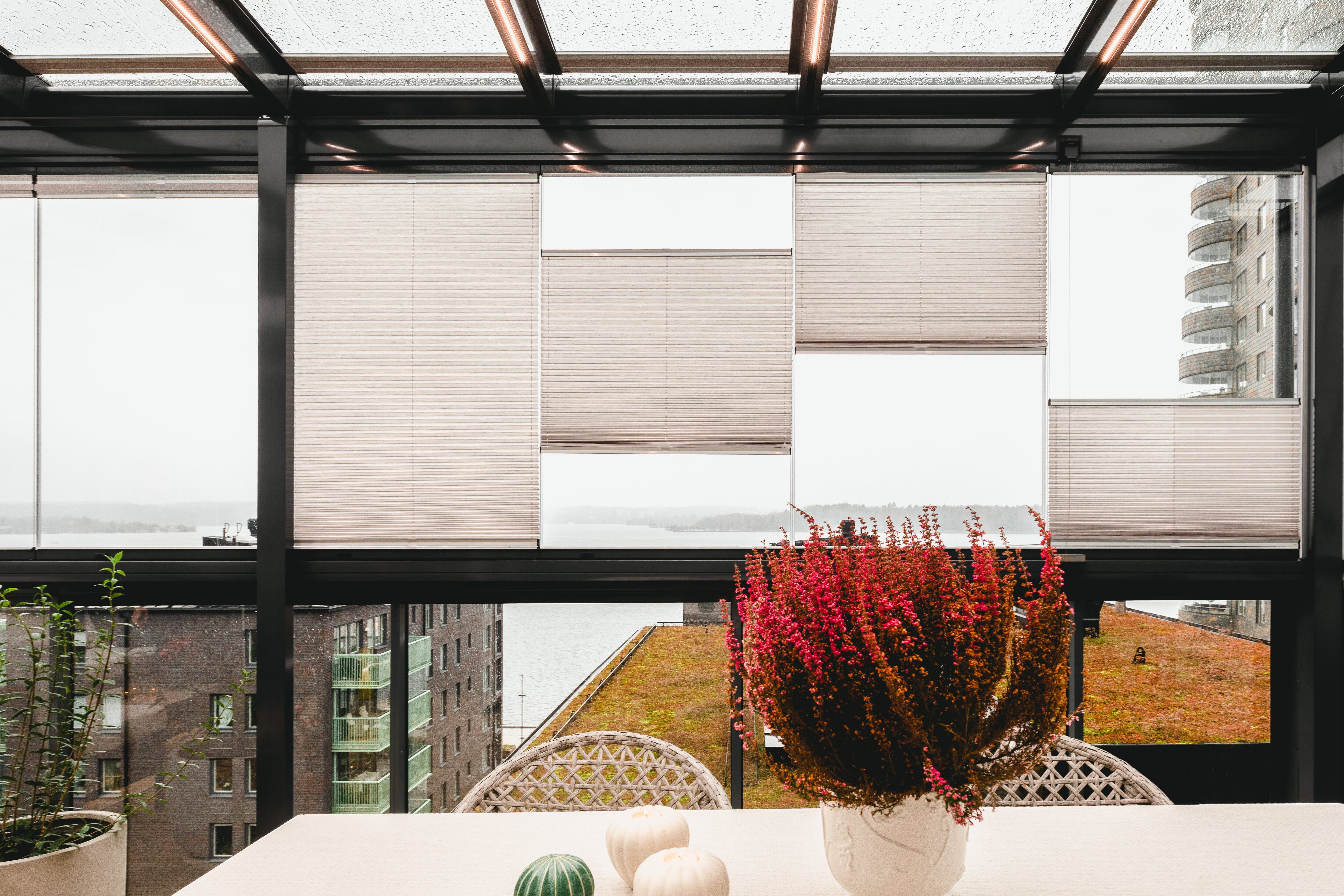 It is important to understand that the glazed balcony is not a sealed unit, but it is a ventilated space, where problems of extra humidity are eliminated. The room advocates for healthy ventilation and air circulation in the home. Studies made in Tampere University of technology have shown that in typical Central European climate conditions, cuts in energy costs in an apartment behind a glazed Lumon balcony are as much as 6-7% on average. This is a remarkable saving.  
The payback time of CO2 emissions, from mining to manufacturing, all the way to installation of a balcony glazing system can be paid back in 3-5 years, depending on different climate conditions, throughout the world. It can be said with confidence that it is a green act to invest in a balcony glazing system.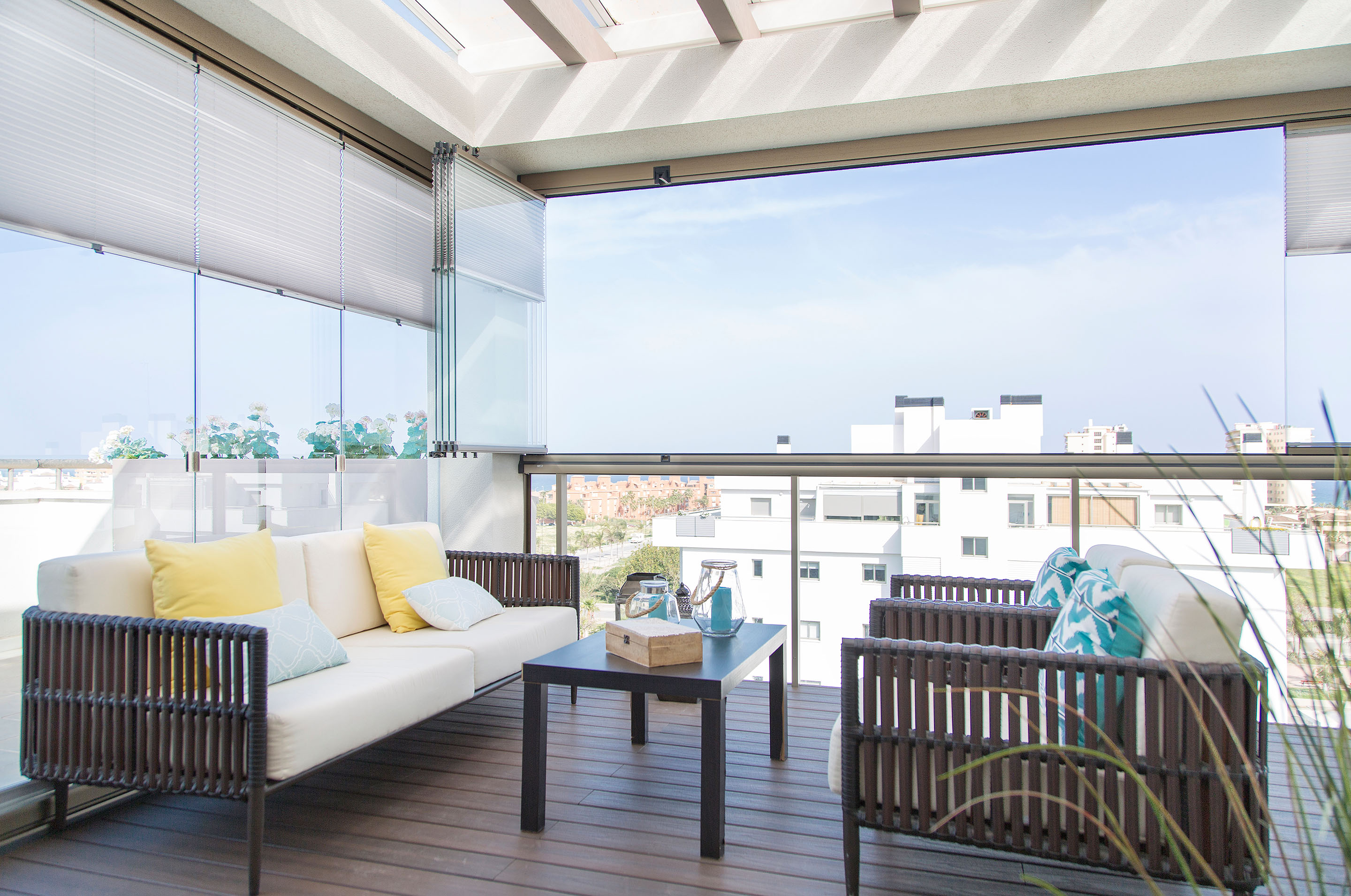 As the pioneer of the industry, Lumon has been conducting independent studies to find out the benefits of balcony glazing. In addition to energy savings, for example, noise reduction studies have been conducted. The results have shown that glazing reduces sensible noise by 50%.